Band, choir go to state for solo, small ensemble
Hard work and practice was put to the test as music students competed at state contests. Saturday, April 28, was the State Music Festival for band and choir solos and small ensembles. The large ensembles competed on April 6.
   Mixed Choir, Women's Choir, Men's Choir and Chamber Choir got a rating of 1.
  "The ratings speak for themselves.  I'm very proud of them especially in the sight reading area.  They knocked it out of the park," choir teacher Deanna Schockmann said. Receiving the gold medal for vocal solos were junior Alli Thomas and sophomore Madeline Schockmann. Receiving a silver on their vocal solos were senior Nate Fauquier, freshman Grady Miller, and senior Madi Rozzel.
  Schockmann believed the rating the choir received was what they deserved, but there is always room for improvement.
  "Two areas that I would like to see growth is dynamics, especially singing soft with support.  Secondly, stage presence and making a real connection with the music.This comes with exposure to music, understanding the music and how it works, the text and it's meaning and maturity," Schockmann said.
  As far as comparing band to choir, Schockmann said that, "they are two different beasts with their own unique sets of challenges and that it is not appropriate to compare them to each other."
   "I'm very excited to see the students making the connections with sight reading and the strategies we've been learning in class.  A big shout out to my section leaders for a job well done," Schockmann said.
  The band received an ¨Outstanding¨ (II) rating at State Large Ensemble contest this year.      Receiving a Gold Rating on her solo was sophomore Autumn Bauer (flute).   Receiving Silver on solos were senior Zoe Eledge (clarinet), junior Autumn Long (flute), freshman Gabby Porter (flute), and sophomore Madeline Schockmann (flute).  Receiving Bronze on her piano solo was freshman Gabby Porter. Small ensembles receiving Gold were Fauquier SAB and Ladies 6. Those receiving Silver were Flute Trio, Sprouse SAB and Thomas Mixed 8.
    "Congratulations to all music students," Schockmann said.
  The band was very young this year, with 66 percent of the band being freshmen and sophomores. Instrumental instructor Brandi Holt also invited the eighth grade band to participate in State this year.
  "I could not be more proud of this ensemble and how they have grown. They have persevered through many challenges… they put up with me pushing them to their limits on a daily basis as I gave them rigorous repertoire to perform, and some of them were playing instruments that they had never touched until this year.  It's quite impressive that they achieved so much at contest," Holt said.
   Holt believes that the band was judged fairly and that they earned what they received and should be proud of themselves.
  "I am a firm believer that every performer needs to strive for more. Students learn more and more everyday, so striving to apply what they learn with consistency is key to building on more success. By nature, most musicians are perfectionists and the musician in me wants every performance to have an emotive impact on the audience. This could translate into happiness, sadness, fear, excitement, etc. If we as a band can consistently achieve this, then the ensemble is exactly where they need to be," Holt said
    Holt was very proud of the choir and their accomplishments, just as she was with the band.
Leave a Comment
About the Contributor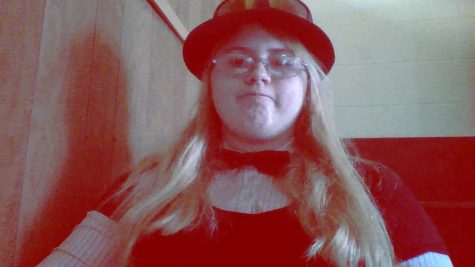 Electa Good, Staff Writer
Join Electa Good on her adventure of being a boring Junior. This is the first year Good is a part of The Wildcat newspaper staff. Good is involved with...