Students and faculty focus on improving themselves this new year
2018 — a new year and opportunity to change and improve. When thinking of New Year's Eve and New Year's Day, the topic of New Year's resolutions never fails to make an appearance. Although it's well known that a majority of them aren't followed through, many people worldwide are excited at the opportunity to better themselves and the world around them.
  According to Statista.com, the most common New Year's resolutions are to eat healthier, to get more exercise and to save more money. It's clear that self betterment is the recurring trend in resolutions, mostly revolving around the physical side of life.
 Sophomore Rayni Simons is one of countless students who started off the New Year with a resolution to follow.
  "I think having a resolution is good because it's setting yourself a goal to achieve and usually makes you better in some way," Simons said.
  English teacher  Lloyd Wheeler plans on making this year a more productive one in terms of his role as a teacher. In the past, Wheeler has had resolutions that focus on improvement in specific areas of his life such as: "Improving my health (exercise and diet), giving more time to others, spending less time alone, reading more, taking more time for self-reflection and focusing more intently on my career."
   After agreeing that resolutions usually revolve around the betterment of oneself, Wheeler preached of the importance of being an individual.
   "I made a resolution when I was a teenager that I wasn't going to let anyone else dictate who I am. It's a daily struggle to block out ignorant opinions in order to find your own space in this life. In the words of Ralph Waldo Emerson, a Transcendentalist poet of the 1800's, 'To be great is to be misunderstood.'"
   Although most resolutions may not last or be fulfilled as they're intended to be, sophomore Joe Montez has followed through with his resolution from last year.
  "Last year I told myself I was going to lose the extra 20 pounds I gained from when I broke my ankle. I ended up losing 22 pounds and more than a year later I have still kept that weight off," Montez said.
  Even though several students participate in creating resolutions for the year to come, some students, such as junior Logan Davis, choose not to. He may not have a resolution, but Davis still believes that, "Being on time for work is a pretty bad resolution, you should always be on time for your job." Davis believes staying dedicated and motivated in everything you do is the best resolution to choose.
  Regardless of the resolution, any plan to better oneself or the world in general is a great idea that is more than worth the effort in following through with.
Leave a Comment
About the Writer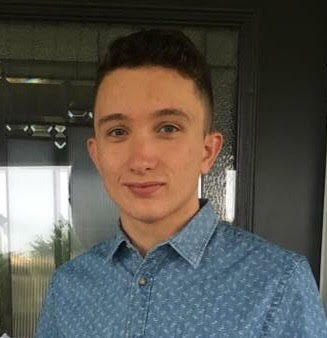 Tyler Simons, Staff Writer


     Tyler Simons is a senior, and this year is his first with The Wildcat news staff. The son of Shane Simons and Emmi Smith, Tyler is involved...