Performers get competitive at speech contests
  Warsaw students who love to perform have been bringing home awards for their performances at recent area speech contests.
  Speech team is an extracurricular activity that, according to some members, is often underestimated. Contrary to some student beliefs, speech team isn't just writing and giving speeches, it is much more fun.
  Speech team members include freshmen Lacey Andrews, Ariel Givens, Arianna Herrick, Kyleigh Hines and Sierra keyte. Sophomores, Anna Cawood, Ashten Cunningham, Triston Good, Aniston Mcmillen, Kathryn Ricke, Alexa Scrivener, Samantha Townley and Aubrianna Umlauf. Juniors Ren Rozzel and Chance Thirstrup and seniors Madison Rozzel and Caitlin Easter.
  Students like a wide variety of different categories of speeches students can perform making it interesting and fun, such as prose reading, poetry reading, dramatic or humorous interpretation, duet acting, improvisational acting, storytelling, and extemporaneous speaking.
  "I think that the different options of speeches is a good thing because it keeps you busy during competition say," sophomore Asten Cunningham said. "Also, gives you a lot of different chances to final." Cunningham preforms poetry and duet.
  Some of the different categories of speeches include poetry reading, which is where a small or long piece of poetry is read. Memorizing is not necessary, speakers can write their own poem or the poem can be brought up and read.
  Duet improvisation acting is another category in which the actor chooses a partner of their choice to act out a particular topic without any script. Duet acting, is similar, but there is a set script that is memorized and performed.
  Radio speaking is another category of speech, the member writes their own speech about the current news that has occurred in the last 24 hours, then announces it as if mimicking a radio host.
  Those are just a few examples of the many categories that are available to the speech team members.
  In a competition, members have two to three rounds depending on the schools preference and each round has one judge. Members compete against about seven people per round. Judges rank on a scale of one to seven, one being the best and seven being the worst. If a performer gets ones or twos they are likely to compete in the finals.
  Finals, of course, are the final round that the winners of each round are selected into. When reaching finals round, medals and awards are granted to the final winners. In the finals, the finalists compete one another to get ranked on a scale of one to six.
  "It's always exciting when yourself or one of your team members makes it to finals, just to show support to someone else is a lot of fun," freshman Lacey Andrews said. Andrews is currently working on Lament by John McCutcheon and The Ballad of Penny Evans by John Goodman.
  At the most recent competition that took place on Friday and Saturday, January 19-20 in Warrensburg, multiple members placed:
  AJ McMillen – 8th place in Champ Prose
  Caitlin Easter – 7th place in Champ Prose
  Alexa Scrivner – 6th place in Champ Prose
  Lacey Andrews – 6th place in Champ Poetry
  Lacey Andrews and Kyleigh Hines – 4th place in Duet Acting
  The whole team, overall, did very well and their next competition takes place on Saturday, January 27 at Salisbury.
  The team practices by performing their pieces at meetings with speech team coachKatie Johnson in the middle school, typically on Tuesdays Thursdays and Fridays.
  "At practices we pop popcorn and watch each other perform as as a way of getting ready for competitions. Mrs. Johnson critiques our work to help us improve. It's like our own movie and it's a lot of fun," freshman Samantha Townley said. Towley is involved in poetry and improv duet acting.
  The speech team puts out one act plays and a readers theater every year, to show off skills each student has been practicing and perfecting all year. The cast list of the one act play that the team is performing this year is called The Plaza Suite and the following students are playing the following characters.
  Caitlin Easter – Norma Hubley
  Chance Thirstrup – Roy Hubley
  Borden – TBA
  Mimsey – TBA
  Stage Manager – TB
  Set Crew – Rusty Johnson and more to come.
  They will perform these acts at the two day district competition on Friday and Saturday, March 2 and 3.
  There is an upcoming speech competition that takes place at Warsaw on February 3. The Warsaw speech team always helps out with the competition by providing there assistance if anyone needs help getting around the school or if anyone is confused what to do.
  Most of the members have made a lot of unforgettable memories over the course of just a few months this school year.
Leave a Comment
About the Writer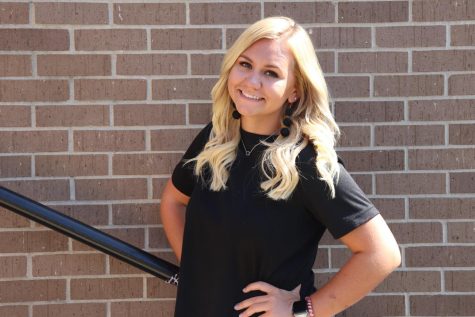 Rheanna Coke, Editor-in-Chief
 Senior Rheanna Coke has been dedicated to journalism for her entire high school career. She is in her fourth year of journalism. Her freshman year, she...