Seniors start the financial aid journey
  This time of the year is when high school seniors need to be seriously looking at and applying for colleges, as well as for scholarships and grants if college is the path they look to take in life. College isn't getting any cheaper over time, and finding ways to pay for it without using their own, hard-earned money is the best way for students to go about enjoying the college experience, once other college decisions have been made.
  A major part of this is filling out the FAFSA as soon as possible.
  "If we look at the news these days, college debt is rising every year, faster than the salaries of most jobs are rising.  That being said, it is important and every student has to sign up for it (Financial Aid) when they enroll in college, so understanding it is important," school counselor Tyler Richardson said. Filling out the FAFSA is vital whether one needs it or not, because getting every dollar possible toward paying for college should be a top priority.
  On November 9, there is going to be a presentation on everything financial aid.  Housing, scholarships, books, grants, A+, anything about money that might be used in college.  After this presentation, SFCC financial aid personnel will help fill out  FAFSA's to those who are interested, doing so on November 14 as well.
  In the 2016-2017 college school year, the average cost with tuition and fees was $33,480 for private colleges, $9,650 for state residents of public colleges and $24,930 for out-of-state residents at public universities, according to Collegedata.com. Obviously, college isn't anything cheap.
  Scholarships and grants hold a role of crucial importance toward being able to afford college. Not only do scholarships and grants help pay for post-secondary education, but they don't have to be paid back!
  "Apply for every scholarship you can find!  Any money you can get with scholarships is less you have to pay back later.  Put in the work to get your A+ Scholarship!  If you don't have a plan for your future, spend two years at a community college figuring it out," math teacher Amy Spunaugle said.
  The outlook on what the future holds from the perspective of a senior can range from near hysteria due to the unforeseen, to complete serenity and acceptance of the added responsibility and decision making that adulthood carries.
  For senior Warren Auge, the college experience isn't something that worries him. As far as beginning college is concerned, Auge said, "I'm pretty confident about it all, except for my ACT score." In terms of financing college, "The cost of college is utterly ridiculous and far too high right now. Luckily, I have the A+ Program to help me not worry as much about that," Auge said.
  All in all, attending college is an expensive, but extremely beneficial plan for the future. Students doing all things possible to pay for college without using their own money is the best way to go about a post-secondary education, and is more than worth the effort.
Leave a Comment
About the Writer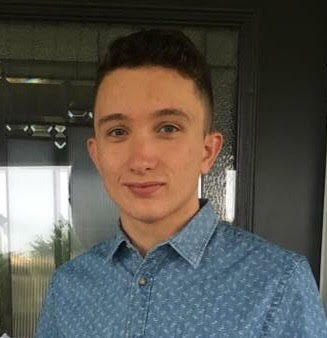 Tyler Simons, Staff Writer


     Tyler Simons is a senior, and this year is his first with The Wildcat news staff. The son of Shane Simons and Emmi Smith, Tyler is involved...