Motivational speaker encourages students to be kind to one another
 "Don't be a little elephant." That was the message that caused some conversation in the hallways after guest speaker Stu Cabe got students thinking about their own treatment of their classmates.
  Stu Cabe, a former drama teacher and professional actor from Boise, Idaho, spoke to WHS students on Sept. 1. Superintendent Shawn Poyser invited Cabe, who has been speaking to students for over 10 years.
  Cabe's message was to inform students that it's better to be kind (Big Elephant) than to be selfish (Little Elephant). It's also better to be kind because students don't know what other students are going through at home. He explained to students that little elephants are selfish and big elephants care about others.
  Cabe compared bullying behavior to elephants relocated to an African refuge. He was inspired by a wildlife television show. The little elephants bullied the white rhinos because the big elephants weren't around. The Wildlife rescuers brought in the big elephants hoping that the little elephants will take after the big elephants. As the Wildlife rescuers was correct about their prediction. As the white rhino got away from its pack, the little elephants charged at the white rhino. The big elephants got in front of the white rhino and the big elephants taught the little elephants that killing the white rhinos was not okay.
  Cabe mentioned a time when his daughter was teased in elementary school about wanting to be a princess. After that day, her dreams were dashed.
  "You're supposed to look back on a time that was special," he said. "When you're bullied, you remember everything."
   "Work hard, play fair and be nice," he said."Don't be little, be big."
   Principal Randy Luebbert hopes that the message will make an impact.
  "I thought it was an excellent speech and just think how great our school would be if we all followed his advice – if we were kind and treated each other the way we wanted to be treated. We wouldn't have bullying or any other issues."
  Some students don't think his message got through. Many students thought that Cabes' message was good, some people thought it made an impact on the student body while others thought differently of behaviors changing from the lesson, but most people think they didn't change. Everyone thinks none of the students has become a " big elephant" since Cabe's message.  
  "I liked Stu's message, maybe the message made an impact, not really, nothing changed and none of the students changed," freshman Cody Fulks said.
  Many students don't think students would stand up for other students.
  "I don't think so, but I would, thats just how the population is nowadays," junior Alexandria Young said.
  "No, not in this school, they would either help bully the kid or go about their business." senior Breanna Riggs said.
Leave a Comment
About the Contributor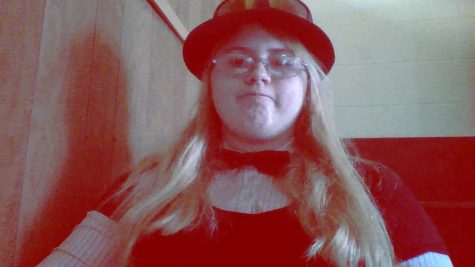 Electa Good, Staff Writer
Join Electa Good on her adventure of being a boring Junior. This is the first year Good is a part of The Wildcat newspaper staff. Good is involved with...