Long-standing senior privileges enjoyed by Class of 2017
As seniors prepare to walk the stage for the last time they reflect on what makes being a senior so special and why traditions matter.
 One of the most talked about senior traditions is the "senior bench."
   "To me, the bench is just another spot in the school but just like certain rooms, it is off limits until you are a senior. I wouldn't call it important, but it's definitely a nice benefit," senior Chance Adams said.
  The bench tends to represent a sign of seniority for most seniors. The senior bench is a tradition that dates back to around 2000. Before a bench was installed, seniors would hang out at the "senior heater" before the start of school, which was located roughly in the same spot.
  "I feel like seniority is a big deal, we have waited 12+ years to finally be the top dogs, and get special privileges," senior Kylie Guyette said.
  Seniority comes along for every senior.
  "Seniority is something found everywhere. In the workforce or even in college. Seniority is something that sets people apart from one another. You know who has put the time in and they get some benefits for it. Everyone gets their turn. I see no harm," Adams said.
  Senior chants, parking spots, and seats in the bleachers are all things that come along with being a senior.
 "These are all things we have been looking forward to our whole school career. These things allow us to be happier, and to enjoy our senior year to the fullest," said Guyette.
  As the last few weeks of a seniors high school career come to an end, they get more special privileges and traditions that come along with it. Some seniors think there should be more traditions.
  "I enjoy traditions of any kind, and senior traditions are truly fun. I think having more traditions would be a great and fun idea if anyone could think of good ones," senior Hunter Bagley said
  Some recent traditions have been taken away from the current senior class.
  Recently added senior week was removed from this years graduating seniors due to low attendance, along with the senior prank.
  "I think senior traditions are expected. I don't think senior classes need more traditions, but if one has to be taken away then it's definitely nice to have another one added to replace it," senior Garrett Smith said.
  In the past ew years that have some newly added traditions. Sense last year, graduating seniors take a trip back to their elementary school to walk the halls for the last time, and to say goodbye to old teachers. The graduating seniors of 2015 started the new tradition of honoring students with Cum Laude, Magna Cum Laude, and Summa Cum Laude.
  While seniors have enjoyed celebrating their last year of secondary education with traditions and privileges, they are most excited for the ultimate tradition honored in the graduation ceremony on May 19.
     "I've never cared about chants, parking spots, or even a senior bleacher section. What I enjoy the most about senior year is simply sharing the whole vast experience with a great group of people I have been growing up with for the past 12 years," Smith said.
Leave a Comment
About the Contributor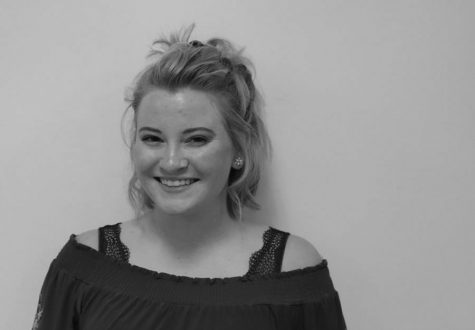 Brenna Smith, Photography Editor
Senior Brenna Smith, a lifelong Wildcat, has come back to the journalism department for her fourth and last year. This is her second year as the photo-editor...