Hamburger wars winning recipe
A hamburger war was held in the pro start class. Two teams were formed to create a hamburger recipe. Of the two teams, the one that created the spicy, cheesy, bacon burger won. Team members were junior Destiny Lee and senior Amee Wiggins. Here is the recipe:
Spicy, Cheesy, Bacon Burger
Ingredients:
2 pound of ground hamburger

Sliced white american cheese

Velveeta Cheese, cubed (You will want the cubes slightly large, as one cube will go in the middle of your burger. If they are slightly rectangular that is okay, ours were about 1 inch by a half inch)

A1 steak sauce

3 Tablespoons Liquid smoke (You could use more or less depending on your taste)

1 Tablespoon Italian Seasoning

2 Tablespoons Garlic Powder

1 ½ Tablespoons Onion Salt

2 eggs

½ cup finely chopped jalapeno (You can use fresh or in a jar. We used the sliced jalapenos in a jar when we made it. Amount can be altered to taste. Less for a less spicy burger, more for a bit more kick, etc.)

½ cup sliced jalapeno

Tomato (Optional)

Leaf Lettuce (Optional)

Package of thin cut bacon

Onion Rolls

Mayonnaise (No specific amount, you will use this to toast your rolls. You could also replace this with butter or margarine.)
Directions:
  Let your skillet heat to a little over medium heat (ours had a scale of 1-10, we put it on 6.) and preheat your oven to 400 degrees.
  Meanwhile, put ground burger in a large mixing bowl and crack eggs into it. Knead this with hands until well blended. Add liquid smoke and chopped jalapenos and blend well. Add your seasonings one at a time, blending well after each one. Take about a small patty of the mixture in your hands and press your thumbs into the center to create an indent. Then, place your velveeta into this indent and wrap your meat mixture around it. You can then add more of the mixture to make a larger patty. Repeat until all of the mixture is gone (we ended up with five patties). You will also slice your onion rolls with a serrated knife or bread knife.
  Put parchment paper into a sheet pan and place your bacon on it (we used ten full size pieces) and place them in your oven. Keep them in until they are golden brown and slightly crispy (we had ours a little crispy, but still kind of soft).
  Let a smaller skillet heat to medium heat (we had ours at about five and a half), this is what you will put your rolls on to toast them.You will now put your patties on your skillet with the sliced jalapeno to cook together (we put a little bit of non-stick cooking spray to ensure it didn't stick, but you don't have to). At this point you will cook them to your preference, but add the A1 sauce the last few minutes of cooking (we cooked ours to 160 degrees, turning them often to make sure they cooked evenly). You will also add the american cheese the last minute or so to let it melt.
  Take your sliced onion rolls and spread a thin layer of mayonnaise (or the butter or margarine)  on the inside of it. You will then place them, inside down, on the skillet and let them toast until golden brown (darker or lighter if you prefer).
  Cut your bacon strips in half, and once you put the burger on your bun you can top it with the bacon (our bacon was soft enough to fold, but the bacon we put on it added up to two full strips, four half strips).  You could also top with the sauteed, sliced jalapenos if you like. Add any of the other toppings you would like to add, such as lettuce and sliced tomato, and enjoy!
Leave a Comment
About the Writer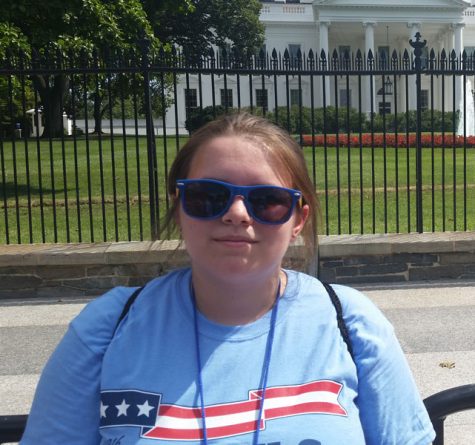 Alexis Smith, Photography Editor
Alexis Smith is a senior at WHS this school year. This is her second year on the newspaper staff and her first year on the yearbook staff, of which she...