Eighth grade students get ready to face their high school fears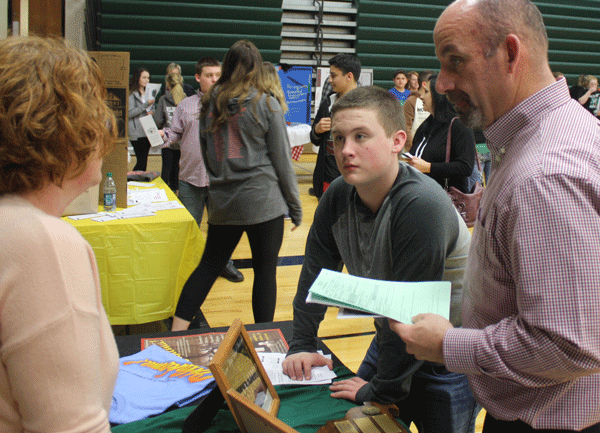 The transition from middle school to high school is one that can often be very frightening to those who don't know what their future will be like. There are many fears about what the new school and classmates will bring.
  "My biggest fears for high school are not being able to understand anything and not being able to keep my grades up," eighth grader Darby Mostaffa said.
  Freshman Alexa Scrivener also thought the same thing when she was going through the transition herself.
  "I was worried most about not being able to maintain my grades," Scrivener said.
  Mostaffa thinks the hardest part about keeping her grades up will be keeping up in class.
  "It's mainly how the classes are going to advance, and really just how difficult the material will be." Mostaffa said.
  Middle school counselor Katie Johnson said that the two most important things about high school are grades and the ACT. She said that being involved is equally important in high school, but grades remain number one when it comes to colleges and scholarship committees.
  One of the most common fears of being a high school student is being bullied by the upperclassmen.
  "My biggest fear about high school would be seniors picking on the freshman." eighth grader Semaj Stinson said.
  Those same stereotypes were completely refuted by Scrivener. Instead of being picked on, she said she has met new people.
  "No one really hates the freshman," Scrivener said, "I've actually made a couple of friends."
  As far as how to make the transition easier, most students said that they have or will have someone to help them through things. Such as Mostaffa, who believes that all her teachers will be willing to help her. Freshman Autumn Bauer can verify this because she had a teacher help her.
  "I had my band teacher Mrs. Holt there to help me," Bauer said.
  Another way students can keep things easy is to get involved so they can get the most out of their high school career.
  "School is much more fun if you get involved in activities, and those activities are also something that colleges look at when you go to apply to them," Johnson said, "However, don't overload yourself with activities. Your grades could start slipping."
  Stinson also feels like high school is time for him to get involved.
  "I'm excited to be a high school student because it will allow me to have more and more opportunities," Stinson said.
Leave a Comment
About the Contributor
Nathan Townley, Staff Writer
Nathan Townley is a WHS senior who joined the staff second semester. He is Academic Team Captain, Principle Jazz Trombonist, English Club Vice President,...