Artist Corner: Seth Eckhoff
Senior has successful music experience
Senior bass Seth Eckhoff has had a successful music experience in school.
  Eckhoff is a member of Madrigal and has successfully taken solos and small ensembles to state in the past. This year, Eckhoff is taking his solos "Sea Fever," composed by Mark Andrews, and "Vergin Tutto Amor," by Fransico Derante to state competition. Eckhoff is also taking his two groups, Men's 6 and Eckhoff's Mixed 8, to state after receiving "1" ratings on both.
  Eckhoff did not take a solo his freshmen year, but received "1" ratings on his small groups. His sophomore year he received a "2" rating on his solo and small ensembles. Eckhoff received "1" ratings for his solo his junior year, along with "1" rating on his small ensembles.
  Eckhoff has also been involved in three musicals: "Joseph and the Amazing Technicolored Dreamcoat," "Annie," and "Oklahoma!" Eckhoff was in band in middle school, participated in middle school choir, and was apart of Kool Keyboard Kids in elementary school.
  "Seth has always made significant contributions to the choir," choir director Deanna Schockmann said.
  Schockmann nominated Eckhoff because he has been a dedicated part of choral music since Kool Keyboard Kids.
  Schockmann feels Eckhoff has been very successful with music.
  "His solos and ensembles have always done well at contest," Schockmann said. "And that is thanks in part to his leadership.He genuinely enjoys music and the camaraderie of being in a choir."
  "I love to sing," Eckhoff said. "My grandfather taught me to sing."
  Eckhoff believes his biggest accomplishment is improving his voice enough to be able to take solos to state for the second year in a row.
  "I would like to give credit to Blake Brodersen," Eckhoff said, "for helping me memorize my second solo piece."
  Senior bass Blake Brodersen sat with Eckhoff and made him go over his solo again and again to make sure he memorized the words.
 Broderson has been in choir classes with Eckhoff since they were in sixth grade. He believes Eckhoff is successful with his music.
  "He is passionate about it," Brodersen said. "He enjoys singing, not just on a level of being in choir class. I think he enjoys singing all around and it shows in everything he does including class and competitions."
 Brodersen thinks Eckhoff's biggest accomplishment is making it to state in the different groups he goes with.
  "That is the biggest accomplishment in choir," Brodersen said. "Making it to the state level and competing there."
  Seth is planning on singing at State Fair Community College next year in the Jazz singers and Chamber Choir.
  "I look forward to hearing great things about his musical endeavors!" Schockmann said.
Leave a Comment
About the Contributor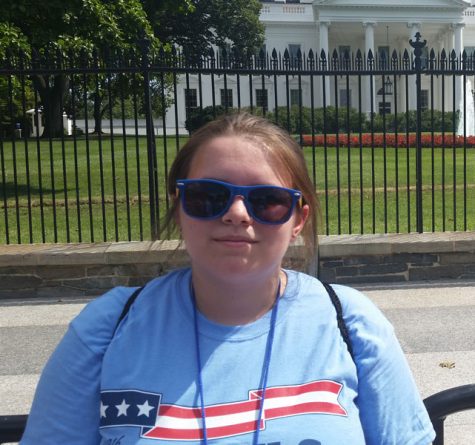 Alexis Smith, Photography Editor
Alexis Smith is a senior at WHS this school year. This is her second year on the newspaper staff and her first year on the yearbook staff, of which she...