Students and faculty enjoy favorite Christmas movies
A poll was sent to the students and faculty to select their favorite Christmas movies. Of the 380 students in the school, 145 responded. Of the 57 faculty in the school, 26 responded. The top picks are shown below.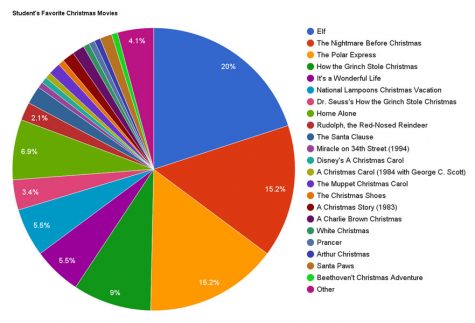 "'Elf' is the best movie ever. I really like the narwhal." -Junior Casey Keith
"'The Nightmare Before Christmas' is the best Christmas Movie of all time. It was the first Christmas movie I ever watched with my mom. I was raised on it." -Senior Hunter Green
"I love the music, the storyline and everything else about 'The Polar Express.'" -Freshmen Savannah Neth
"I like 'How the Grinch Stole Christmas'  because I've grown up sixteen years watching it every Christmas. So it's special to me." -Senior Corey Nahrstedt
"'It's a Wonderful Life' puts me into the Christmas spirit. I remember watching it in Mrs. McCubbin's class and it brings back a lot of good memories." -Sophomore Autumn Rhea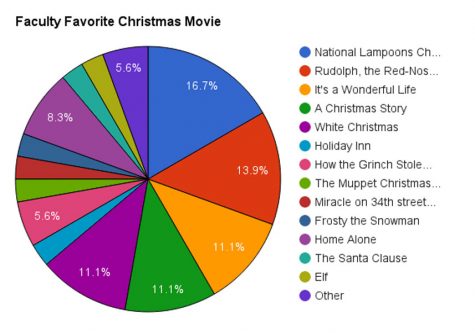 "More than the movie itself, I like 'National Lampoon's Christmas Vacation' because my older siblings loved it, so when I watch this movie it brings back memories of sitting as a child in our rec room watching this movie and laughing with my brothers and sister.  As I watch it as an adult, it really is a ridiculous movie, but memories and traditions make Christmas great." -Math teacher Amy Spunaugle
"'Rudolph, the Red-Nosed Reindeer' is my favorite Christmas movie because of an annual family tradition. Every holiday season, the first time Rudolph is aired on the Hallmark channel, we all get together, make dinner, and watch the movie together. It doesn't matter if it's a Saturday or Tuesday (which is what it was this year), our plans for that night will always be watching Rudolph together." -Math teacher Amelia Fizer
"An angel helps a compassionate but despairingly frustrated businessman by showing what life would have been like if he never existed. I believe after watching 'It's a Wonderful Life' we can all find meaning to our existence in our own lives. We are all important…even if we sometimes feel invisible or like we don't matter." -Math teacher Jowell Roellig
Leave a Comment
About the Contributor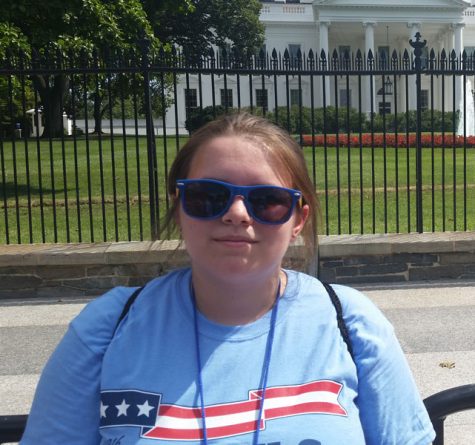 Alexis Smith, Photography Editor
Alexis Smith is a senior at WHS this school year. This is her second year on the newspaper staff and her first year on the yearbook staff, of which she...