Annual holiday assembly to kick off winter break for thirteenth time with big giveaways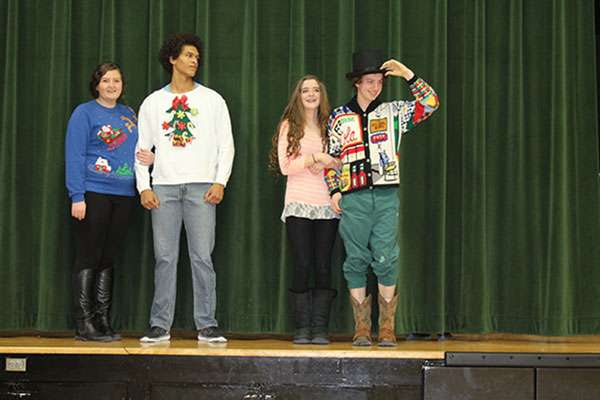 Since 2003, WHS has hosted a holiday assembly to celebrate the end of the semester and entertain students with games and crazy antics of the male-dominated holiday beauty pageant with the Mr. Christmas contest. This tradition will continue on Friday, Dec. 16 at the annual assembly. Students who attend also get the opportunity to win some serious prizes, from a television to Chromebooks.
  The entire student body will be entered into a drawing for couple hundred dollars worth of presents, including a 32" flat screen courtesy of the student council. In separate drawings for good attendance, principal Randy Luebbert will give away two Acer Chromebooks. Lubbert is providing the prizes from his own pocket.
   "There are different qualifications for different drawings. The gifts that STUCO gives, everyone is in the bucket. The chromebooks this year, only students with 90 percent attendance or better will be in that bucket," said Student Council sponsor Jenny Greene.
  STUCO raised money for the giveaways from the Homecoming dance this year.  They raised around $350 from the dance. STUCO will be giving away smaller gifts as well as the TV. They will be giving away blankets, gift cards, and candy.
 The assembly will also feature games. Last year, students participated in a powdered doughnut snowball fight, a wreath relay and blind musical chairs.
  The schedule for Friday has been changed as compared to previous years. The assembly has been moved to the morning before the afternoon finals.
  The Mr. Christmas contest has been a first semester feature for thirteen years.  The pageant includes the  junior and senior boys doing a few contests including a formal gown, swimsuit, and they will be asked a few questions. Bringing laughs to the student body last year  
  Last year senior Wesley Carr won the prince category for the Christmas pageant. Carr is also competing this year for the king title. Carr is going to be escorted by senior Kaci Cooner again this year.
Leave a Comment