Perfecting the show means making humorous mistakes
With a student production comes practice, and with practice comes the behind the scenes perfection, understanding the characters, learning and the humorous mishaps that go along with it.
  The cast of the fall musical, "Oklahoma," has been hard at work in rehearsals. While they were learning their parts and perfecting the show, cast members say they have experienced some pretty humorous moments.
  Junior Brenden Dockery plays Curly, a character that is full of himself and overly confident.
  Dockery explained the first time he and senior Blake Brodersen (Jud) rehearsed a fight scene.
  "The first time going through the scene I actually punched Blake in the face," Dockery said.
  Junior Nate Fauquier plays Will, a character that, according to Fauquier, is an idiot that makes bad choices.
  Fauquier explained a time in rehearsal when junior Rayne Faulconer stepped on stage in just socks and fell.
  "Something funny happens every rehearsal.  Not a night goes by that the students don't make me laugh at something!" Choir director Deanna Schockmann said.
  Sophomore Alli Thomas described a rehearsal when Jud (senior Blake Broderson) is drunk with a knife in his hand and falls on the knife and dies. Freshman Lerran Yoder and Tyler Findley, and sophomore Sam Andrews had to drag him off stage. They started dragging him by his pants/boots. His pants started to come down and they had to be careful. When they finally did succeed, he was half-on/half-off the stage.
  The musical has a lot of help from students that are not even in choir. Freshmen Billi Erwin, Lilly Alspaugh, Aniston McMillen, and Samantha Townley have come in and worked on the backdrops for the musical. Juniors Lee Newell, Makenzie Hensley, and sophomore Ren Rozzel help with backstage sets. There is still plenty to get done, and Schockmann is still looking for students willing and available to help with stage set up.
  A preview of the musical will be performed in the Warsaw High school gymnasium on November 4 in the morning. Performance dates are November 4 and 5 at 7 p.m., and November 6 at 3 p.m.
Leave a Comment
About the Contributor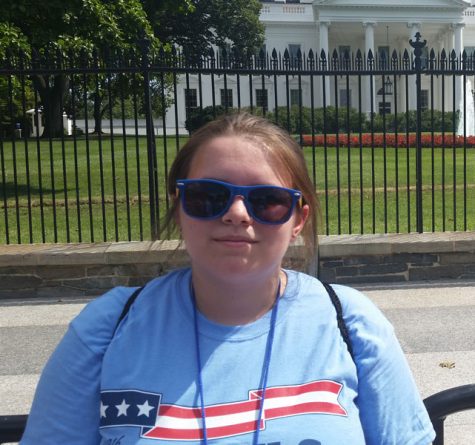 Alexis Smith, Photography Editor
Alexis Smith is a senior at WHS this school year. This is her second year on the newspaper staff and her first year on the yearbook staff, of which she...