Two seniors prove hard work pays off in math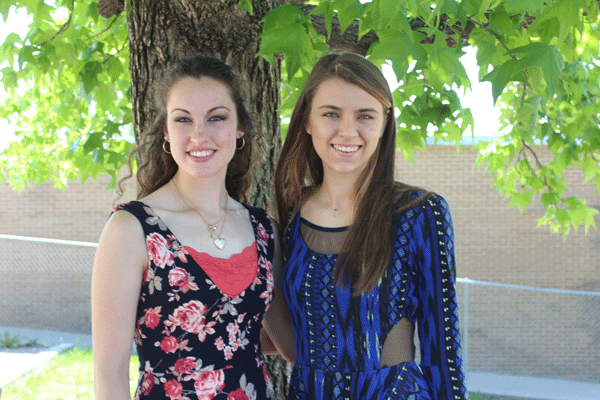 Seniors Rickie Branson and Claudia Schmitz have found throughout their high school years that they enjoy the challenge of mathematics.
  The math department couldn't choose between Branson and Schmitz as the top senior math student so they nominated both students.
  "They are both very comparable and top of the math department," math teacher Amy Spunaugle said.
  "They definitely work hard to use their full potentials," junior classmate Ashlyn Yoder said.
 "It feels good that the hard work has paid off," Schmitz said.
  Branson and Schmitz both recognized each other's hard work.
  "Rickie has been equally as invested in math as I have," Schmitz said.
 "Claudia is an exceptional math student and it's completely effortless for her. She just has a gift for math and understanding it," Branson said.
  Spunaugle reports that both students continuously keep their grades up and work hard to understand mathematical concepts in her classroom. Both girls also seem to be responsible and  perfectionists.
"They are diligent, hardworking, and very intelligent. Thier work is perfect or they work on it until they get it right," Spunaugle said.
"They get all of their work done in class. I would say they have very analytical minds,"  Yoder said.
"I put in extra time in the morning and I work hard to complete my homework," Branson said.
  Besides just being good at it, both Branson and Schmitz seem to enjoy the subject.
"I liked trig because I could finally apply geometry and algebra to real life situations," Schmitz said.
"I like how in math the problems are like puzzles and math is so organized," Branson said.
  Both girls have been in math club since their freshman year and have been successful. Branson has lettered and Schmitz placed at the top of her grade sophomore year.
  Schmitz has taken every math class Warsaw has to offer and hopes to use her mathematical abilities and understanding to help her pursue a career in music.
  "In music therapy I will need to be able organize data. Music and math coincide," Schmitz said.
  Branson has also taken every class Warsaw has to offer and hopes to continue her mathematic education after high school. Her first semester of college she plans to take calculus.
"I'm considering becoming a biologist or a veterinarian and they use math every day," Branson said.