School mourns loss of senior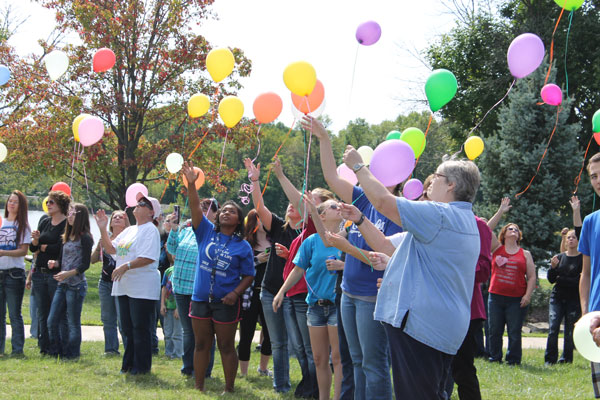 Students, faculty, and the Warsaw community were shocked after a automobile crash claimed the life of senior Jordon Powers and critically injured senior Mason Flippin on the evening of Thursday, Sept. 17.
  Many visited with counselors at school the next day, attended a balloon release on Sunday, Sept. 19, services for Jordon on Tuesday, Sept. 22 at Reser Funeral Home, and a candlelight vigil on Wed. Sept. 23.
  Powers was pronounced dead at the scene of a two vehicle accident at the intersection of U.S. 65 Highway and Route BB. After the impact, his vehicle rotated and both occupants, including Powers and 17-year-old senior Mason L. Flippin, were ejected.
    Flippin was seriously injured and was transported to the University of Missouri Hospital in Columbia. He was put into a medically induced coma and was in critical condition. According to the Mason's Journey With Christ On Our Side Facebook page, Flippin is doing better with chest tubes recently being removed.
   Teachers remember Powers as a quiet and friendly boy.
  Jordon was a very quiet student during his elementary and high school days, but would get excited about things that interested him.
  "For students who had met their goals during the year, we had a special treat:  Larry and Holly Conn hosted the boys for an airplane ride. Jordon was always quiet and, though he had a beautiful smile, you didn't see it very often. After the plane ride that day, he ran up to his mom and said, 'My cheeks hurt!' She wondered if something was wrong, but he said, 'No, they hurt from smiling so much!'  He had a wonderful experience that day and Mrs. Conn and I will always remember that big smile he had when he got off that plane," South School Elementary teacher Kay Ruby said.
  When he found something that he was interested in, he could go on and on about that subject.
  "Jordon was always quiet and always looking for friends. I remember on the first day of school he came up to me and told me something sarcastic that was so funny; he was a trip," English teacher Alison Durst said. "You could tell that he had a passion about cars, he would always talk about them."
  He really enjoyed listening to music, playing video games, being with his friends, and working on cars.
  "He was developing into a really good student, and a responsible young man," science teacher Drake Yeager said.
  "I will always remember how much fun he had in my pottery class with senior Mason Flippin. He was so excited about the castle that he was making," art teacher Jennifer Greene said.
  "He spoke with his eyes like he had a secret to share with me rather than sharing with his voice. He would often give small smiles or smirks at the antics of other classmates and look at me as if he felt for me that I had to put up with his hooligan classmates," retired middle school science teacher Peggy Switzner said.