Teachers help seniors find their way through life
Going through school with a teacher who is dear to them was one way school days were made special for members of the class of 2023.Teachers are a big inspiration and influence for students as they spend a lot of time with them. Students often find teachers a big part of their journey and fall back on them for advice.
"The teacher that inspires me the most is Mrs. (Kim) Pate. She teaches business, so I am a little biased on how much she inspires me since I want to further my education in business. She has taught me to be a leader because she is a leader herself. She is always there to listen if I'm having a bad day, and when I am upset it really stands out to her, and she will go out of her way to make me a better person and feel better," senior Abigail Feltrop said.
"I'm a little biased when it comes to this one because my family is filled with teachers, but I would have to say my mom, Mrs. (Bobbi) Swisher," said Jazzmyn Swisher.
Creating memories can help students bond with their teachers and create lifelong lessons they will never forget.
"Mrs. Spunaugle has inspired me in many ways. I'm not a huge fan of math and she has definitely taught me different ways to make it easier in my head and to make me enjoy it more. She has taught me many things. She has always gone above and beyond to show that she cares for every student and wants them to do their best," senior Rachael Hawkins said.
Having a special connection with a teacher can make the years go by quicker.
"I have so many memories with Mrs Pate. I enjoyed the national fall leadership with her for FBLA, and our junior year planning prom," Feltrop said.
"Mrs. Spunaugle's stories make her stand out. She's always willing to share a crazy story with the class during work days or downtime. I swear every story gets better and better," Hawkins said.
"She's been my role model since day one literally," said Swisher.
Leave a Comment
About the Contributor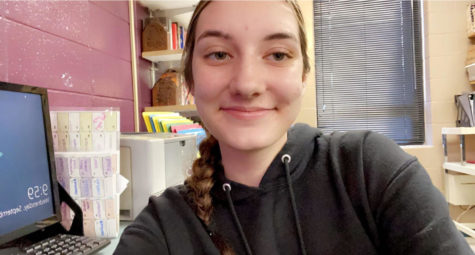 Ciara Kleihauer, Managing Editor - Photography
Junior Photography Editor Ciara Kleihauer is on newspaper staff for her second year. She is on staff again because she loves writing for the school newspaper....