Sacrifices and dedication pays off for top graduates
The time has finally come for the class of 2023 to claim diplomas. While many seniors worked hard to earn those diplomas, those who claim the top academic rankings are celebrating the success from their dedication and drive. Seniors, Anna Siegel, Ashlyn Laue, Ashley Spry, Gracie Comer, Abby Dendish, and Cameron Seevers are Warsaw High School's top ranked seniors of 2023.
High school is not the end of the path for these seniors; they are all also attending college after they graduate.
"I plan on studying biomedical engineering with a minor in neuroscience," Siegel said.
"I am going to Truman State University and I will be majoring in data science and minoring in statistics and computer science," Spry said.
"I am attending Truman State University to study Biochemistry & Molecular Biology," Laue said.
Comer is studying dental hygiene at State Fair Community College.
"I will be finished with my pre-requisites in Fall of 2023 and will be able to apply for the dental program March 1, 2024, which wouldn't be possible if I hadn't graduated early," Comer said.
" I am attending Missouri State University to study social work. I plan on going to college and starting my own life away from Warsaw," Dendish said.
Seevers is also planning to attend Truman State University and Siegel credits her hard work in high school with winning a full-ride scholarship to Washington University.
"I was really motivated to do well in school so that I could earn scholarships in the future. I knew that I wanted to further my education and I could only if I kept up my grades and got the scholarships to pay for it. Academics have always been my priority because I enjoy learning. I know that exploring intellectual curiosity is one of my passions, and something that I want to pursue for the rest of my life," Siegel said.
"One thing that drove me to work hard on my academics is for my own self. I love the challenge and I know that putting my academics as a priority now will set me up for success in college. Academics have been a top priority for me mainly because I didn't want to go to a mediocre college and get a mediocre job. I want nothing but the best and to have a successful career and life," Laue said.
"I have never been into sports so academics was really always on the top of my list and I knew I wanted to go to college so I knew I had to work hard for it. I like to feel accomplished and I always want to try my hardest because I know that will give me a better tomorrow," Dendish said.
These seniors have spent their high school years dedicating themselves to their school work and have made many sacrifices to secure their ranking.
"I have missed out on lots of group hang outs and kickbacks in order to study or do homework. I sometimes sacrifice my happiness because the homework I've had throughout the years makes me question everything," Spry said.
"I've sacrificed hanging out with friends in order to study or get homework done, but a big thing I sacrificed was the second half of my senior year. I graduated early to get a jump start on my career and while everyone says 'you only live once, don't rush it' I've always wanted this career path so it just doesn't feel like a waste to me," Comer said.
There has been lots of inspiration that encouraged these seniors to work hard everyday for four years to get to where they are ranked at today.
"My biggest inspiration academically is my mother. She put in lots of hard work to be where she is today and I want to repay her for everything she's given me," said Spry.
"I have really been my own motivator. No one in my family has been to college and I wanted to be the first," Dendish said.
"Many of my teachers have inspired me to be successful academically, for example Mr.Waller and Mrs. Spunaugle, as well as my parents," Seevers said.
As much hard work has Warsaw High school's top seniors put into their academics, they could not have done it without their teachers. Throughout all of their teachers – from kindergarten all the way to senior year – there have been a few teachers that have majorly impacted their life and continued their passion for education.
"Mrs. Spunaugle has been the most influential teacher throughout my high school career. I have had her for math classes all four years of high school and honestly, I don't know how I would've gotten through these years without her. She is like a mother to me and I'm very sad to be leaving her. Mrs. Spunaugle, if you see this, thank you for always believing in me and I love you forever," Laue said.
"Mrs. Adler. I've had journalism with her since my freshman year and while we may have butt heads a lot, she always pushed me to do better," Comer said.
Being a top ranked senior is definitely not an easy task, it takes hard work, dedication, self discipline, and passion.
"My advice would be to not push yourself to the point you burnout. Be involved in other things. Sports were a great thing for me to participate in because it gave me an escape from academics. Go out with your friends every now and then. Don't procrastinate on your work, but also go have fun. You deserve it," Laue said.
"The advice that I would give is to not do anything stupid and set priorities straight and buckle down for four years of your life and live it up afterwards within reason," said Seevers.
Leave a Comment
About the Contributor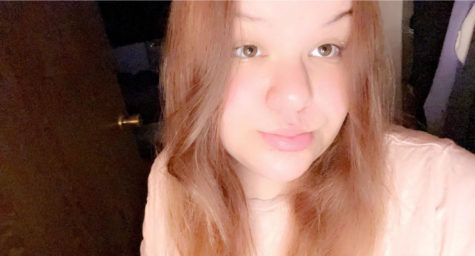 Ariel Harrington, Staff Writer
 Sophomore Ariel Harrington-Plaster has been a part of the Wildcat staff for one year now. This is her second year serving as a staff writer. She is involved...