2022 graduates experience life after high school
Graduating and transitioning into a whole new lifestyle is one of the most important changes people will go through. Graduates from the class of 2022 have most recently been through this big life adjustment and can offer some insight into the world outside of high school.
"Don't be afraid to leave the comfort of your hometown and everything/everybody you've ever known. It may be scary, but it can also turn out to be the biggest blessing in your life. Be the change you are wanting and go chase that dream, no matter how big, or no matter how many people tell you that you can't obtain it," 2022 graduate Taylor Howe said. Howe is at the University of Evansville where she plays on the softball team.
Goals are very important to have. Graduates have realized that having goals is a good way to keep them on track.
"Since graduating I've completed a semester and a half of college, made it on the dean's list, and got accepted to my bachelor's program that starts in the fall," 2022 graduate Emma Johnson said. Johnson is studying at Missouri State University in Springfield.
Graduates say taking dual credit classes, holding down a job, applying for college early and saving money were ways they prepared for the first year after graduation.
"Having a job and being a responsible person is the most that I did, really. I was learning how to be responsible and independent," 2022 graduate Madison Coskey said. Coskey lives in Sedalia and plans to attend Mizzou in the fall.
Being far from home is one of the biggest challenges for many people the year after high school.
"The largest challenge I've faced since high school is being away from my family most of the time," 2022 graduate Tyler Parker said. Parker is studying at Missouri S&T in Rolla.
After leaving, WHS graduates have moved on to make great memories.
"My favorite memory out of high school is probably my first couple months on campus here at UE. Just getting to meet so many new people everyday with different backgrounds and everyday being a new adventure," Howe said.
Many of the WHS graduates made the decision to venture out of Warsaw to move forward with their life, while others have stayed closer to home.
¨I moved over an hour and a half from my family to go to college. I struggle not being able to spend the time I want with my sister, sitting at the table for a home cooked meal, conversations we have and stuff like that but I love the freedom of not having parents telling me what to do. My newfound freedom and adulthood is my favorite thing about being away from home,¨ Johnson said.
2022 graduate Bella Morrison attends State Fair Community College and has learned to set realistic goals and hold herself accountable as she has adjusted to college.
"I stayed home with my family and I wouldn't trade this extra time with them for the world," Morrison said.
Graduates say they are mostly pleased with the direction they are taking, even though it may not be exactly what they imagined.
"It is definitely different and I have changed a lot. But I would say the high school me would be very proud of the self developments I have made so far," Howe said.
"Honestly, I thought college was going to be way harder and strenuous but it really isn't. When people say your college years are the best years of your life I would agree," Johnson said.
"It's like buying candy expecting milk chocolate, but getting dark chocolate, it's the same but it tastes different," Parker said.
"I'm forever grateful for WHS and all it gave me, as always…Once a Wildcat Always a Wildcat!" said Howe.
Leave a Comment
About the Contributor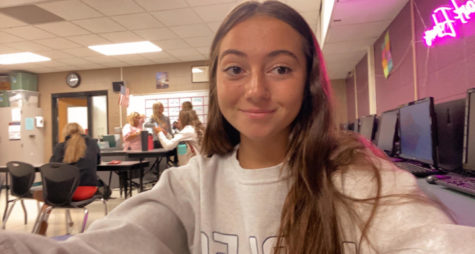 Keira Mostaffa, Managing Editor - The Wildcat Online
Sophomore Keira Mostaffa is in her second year of the Wildcat news production. In Mostaffa's first year on staff, she served as a staff writer then was...