Baseball team approaches 2023 season with big goals
  The baseball team has set out to achieve big goals this season and to represent the pride and values of the program.
   As the baseball season has approached quickly, it also comes with a lot of expectations that are also held to a standard. 
   "Our goal is to try and win 20 games, win our conference and districts," head coach Johnny Eierman said.
    Baseball opened up their season with a jamboree in Sedalia at Liberty Park. Then, followed with a tournament in Harrison, Arkansas as they took home fourth place. Since last year's season coming up short in the district championship game against Stockton, players have set high goals to get farther this season.
    "I would say that winning the district championship is a big goal for us, I think it  pushes us more and more every game, practice, open gym, and our overall mindset," senior Nick Bagley said. 
   Along with players setting goals for this year's season, they also have stated their "why" and motivation they have while playing for Warsaw baseball and the value it brings to them. 
   "Ever since the loss of Coach Bailey, it has changed our outlook on the game, as well as wanting to achieve-not only for him, but also our supportive community, that district championship postseason," senior Gage Whitaker said.
    A lot of exciting things happen throughout high school baseball, some players have even expressed what they're mostly looking forward to.
    "As a new freshman, I'm really excited to just be able to get better every year. Also, I'm really looking forward to just being able to make those memories and have lots of fun," freshman Ryan Fajen said.
    The baseball team gained many freshmen that contribute to the team, and will continue to in the upcoming years.
    "We only have five upperclassmen, so the big group will definitely help and some see potential varsity time. Mostly, looking forward to the sophomores to have a big year, as to stepping up as well," Eierman said. 
   \With five upperclassmen starters returning, that leaves one returning junior, and four returning sophmores.
    Junior Devon Boul, is to be looked at as the starter for first base. Boul has played all four years of high school, including most years being varsity. Sophomores, Kendall Bagley, Garrett Ferguson, Josh Bunch, Jayce Depriest, and Drake Murrell are to be seen for varsity time. Garrett Ferguson is a returning starter as a sophomore, as well as the hitting leader from the most recent 2022 season.  
   "A change that has impacted our season in an advantage, would be us getting humbled too easily. This has pushed us to give it our all, focusing on hitting/approaches, and grinding it out day by day," Ferguson said. 
   Together with Whitaker, the pitching rotation also includes sophomores Josh Bunch, Garrett Ferguson, Kendall Bagley, and Jayce Depriest.
    "We have depth in pitching since we have added some, as well as not lost much from last year," sophomore Josh Bunch said.
    With this year's seniors, they bring all kinds of leadership along with leading by example.
    "As a new freshman, the seniors are really good at stepping up when someone needs help or even a little encouragement. They also can make you laugh, and are very cool," Freshman Brennen Slavens said. 
  The Wildcats are currently 7-6 on their season as of their last game against Lincoln on April 15. They played Stover on April 17 and El Dorado Springs on April 18.  They will play next at the Versailles/California Turf War Tournament on April 21.
Leave a Comment
About the Contributor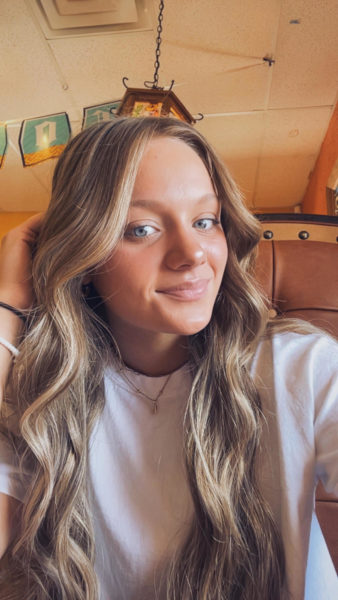 Tanna Howe, Managing Editor - The Wildcat
This is Tanna Howe's second year with the WHS Wildcat News Staff. Howe is a sophomore, while being involved in volleyball, basketball, softball, and pep...