Golfers aim to improve consistency this season
   The golf team has been preparing for this season by working on consistency and getting better at driving the ball. March 21, the WHS golf team had their first golf meet of the season at Higginsville.
    "Our biggest challenge is consistency, being able to hit the ball well every single time," sophomore Carter Howell said.
   "My goal is to get better at driving the ball. I struggle with hitting the ball far, it always seems to go such little distance," junior Hannah Wooldridge said.
   The biggest advantage sometimes can be years of practice and experience.
   "I have been playing golf since my junior year, with what I learned last year, I can use that to my advantage to help get better," junior Jazzymn Swisher said.
   "I have been playing golf since my seventh grade year. I was told I wasn't going to be able to play baseball again so I got into golf," Howell said.
   The team prepared for the meet at Higginsville by working with their clubs, hitting the range or playing holes.
   "I have been going to the course a lot since this summer and I have worked on things that I struggled with last season," Howell said
   Setting goals to achieve can be very beneficial to improving at golf.
   "My goal is to get better at driving the ball," Wooldridge said.
   "My biggest goal is to improve my consistency so that at each meet I do well," Swisher said.
   "This season, what I'm going to try to improve is my knowledge and skill, and also make it past districts," Howell said.
   "Practices have been pretty good. We either hit the range, play some holes, or hit indoors to work on whatever clubs they need to work on," said golf coach Dennis Larson.        
   The team also had a meet at Tipton where juniors Carson Bonner, Johnny Jones, and senior Coehen Walton took 1st, 2nd, and 3rd. For the JV team, Parker Gemes placed first.
   "Overall, I think we are off to a great start and I'm looking forward to the rest of the season," Howell said.
Leave a Comment
About the Contributor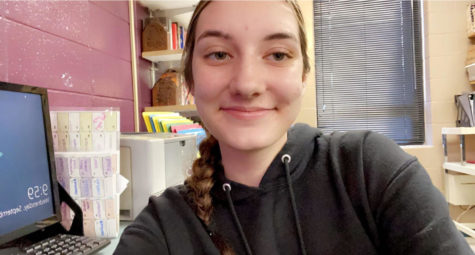 Ciara Kleihauer, Managing Editor - Photography
Junior Photography Editor Ciara Kleihauer is on newspaper staff for her second year. She is on staff again because she loves writing for the school newspaper....