Advisory time is popular idea among WHS students
Many other schools take part in having an advisory hour or seminar time. Whatever the name, this is a time during the school day for students to work on homework or just have free time to themselves. WHS students are overwhelmingly in favor of such a schedule change, according to a recent Wildcat poll.
A survey sent out to WHS high school students shows that 93.9% of the 66 students who responded are supportive of having an advisory hour.
Many students feel that it would be beneficial to have an advisory hour.
"Having time dedicated to completing schoolwork would allow kids to have more free time after school and help relieve some stress," senior Ashley Spry said.
Advisory time is not something that would be totally new to Warsaw schools. In 2010, students and teachers had advisory time during the school day for tutoring or other special interest groups. This advisory time remained in the schedule through 2017. In the 2018-19 school year, the district went to a four-day schedule and the advisory time was removed from the schedule.
Many students feel that having an advisory will help with sports.
"When coming home from school after sports practice, I barely have any time to work on my homework, so having a time where I can sit down and do homework during the day would lessen the stress of whether or not I will be able to get my homework done," junior Laney Arnett said.
Currently, WHS has After School Tutoring (AST). According to the poll, not many students are taking advantage of AST with 68.2% claiming they never use AST.
There are many different reasons as to why students don't take advantage of AST, 47% said they simply just don't need it, 21.2% claim they don't have transportation.
Superintendent Scott Gemes was a teacher at WHS when advisory time was in place and liked the concept.
"When I taught here, I really enjoyed the advisory hour. We tried multiple different concepts during the advisory hour, but the best was when we were able to group students that needed help with certain subjects with those teachers. The other students got the opportunity to work on their homework or do enrichment activities, such as chess club, computer programming, reading club, etc. I also enjoyed it as a teacher because I had a group that I was responsible for to help them with their grades," superintendent Scott Gemes said.
One conflict with having an advisory hour would be students not using it in the right way. An advisory hour would be used for students to catch up on homework or get help from the teachers.
"Advisory could be negative if students do not use the time to make up work or work with their teachers in areas that they are struggling in. The students have to be accountable during this time and make sure that they are taking advantage of the time. The teachers also need to facilitate and make sure that the students are both using the time productively and helping students that are needing the help. Otherwise, this time will be wasted and there will be a lot of discipline issues during this time," assistant principal Nathan Parker said.
Students graduating with the class of 2023 were the last to experience an advisory time when they were in middle school at JBMS. English teacher Paige Lucchesi, experienced this kind of schedule (called "seminar) when she was a student at Smith Cotton.
"I believe it would be most beneficial to students who cannot come to after-school tutoring or have jobs because this gives them time during school hours to catch up on assignments or review material they may have missed. If a student is absent, this would give them the opportunity to collect missing work from the previous day instead of interrupting class time to do so. It could also serve as a time for a student to mentally prepare themselves for the day, or simply just time to charge their Chromebooks," she said.
Leave a Comment
About the Contributor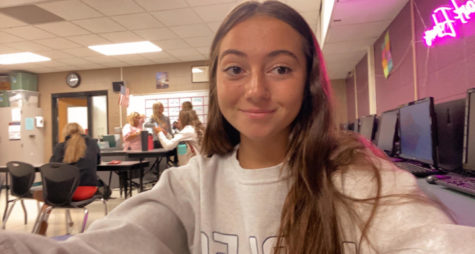 Keira Mostaffa, Managing Editor - The Wildcat Online
Sophomore Keira Mostaffa is in her second year of the Wildcat news production. In Mostaffa's first year on staff, she served as a staff writer then was...