Graduation marks end of 14 years of milestones
Since kindergarten we've all been ready for this exact moment. The chance to walk across the stage after they announce our names, hearing all our friends and family cheer for us in excitement and overbearing joy. We will be watching the tears of joy roll down our parents' faces because although they knew this day was coming, they just weren't quite ready.
Our high school graduation is more than just a milestone in our lives, but the outcomes of 14 years of milestones. From the day we learned our ABCs, got into our first drama with friends, started playing a sport or joined band, to the moment we got our first car, we have had points in our lives where we overcame obstacles and started to shape into the person we are today.
I'm sure everyone can agree with me when I say school itself has been a drag. No one wants to sit for seven hours and have so much homework it leaves you crying because it's so overwhelming. We have dealt with some not-so-fun teachers, as they had all these ridiculous rules for their classrooms because they wanted us to focus on the lesson. Despite the fact that we are supposed to be here for learning, the only thing we can think of is, "man there's so many things I could be doing right now, or friends I could be hanging out with."
Today is such a special celebration, allowing us to appreciate our hard work and brush off the years of the feeling we got when we realized we had forgotten to do our homework. This day is giving us the opportunity to celebrate with everyone that has gone through all the stress with us. On this day, as we walk through the Warsaw High Schools doors one last time, we understand that all the fake friendships, dumb assignments, ridiculous teachers, the labels and rumors that went around about us; none of that matters.
At one point in our lives we were so worried about what others thought of us, from the brand of our clothing, and to who we hung out with. Approaching our last days we are all going to realize none of that matters. No one cares about the shoes we own, the house we live in, or the car we drive. At the end of the day people only care about one thing; if you're a good person.
Now this is coming from me personally, I may not like you, I might even despise who you are as a person. That's okay because I'm sure you and a few other people feel the same way about me, but I still want to see you do great things and do the things you love to do. I don't wish a single bad thing on anyone in our graduating class. I still want to see you eat, just not at my table.
It's time that the senior class acknowledges all the teachers we did enjoy, we all need to take a moment and appreciate those boring lessons and the crying until 2 a.m from dumb amounts of homework that helped build our character. The push we all received from our parents/guardians, teachers, peers, even the pressure we put on ourselves, brought us to the moment we can enjoy wearing our caps and gowns.
Leave a Comment
About the Writer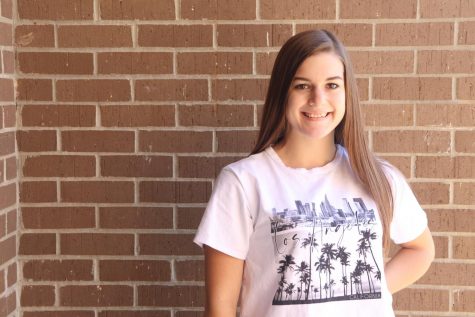 Shyanne Ramsey, Staff Writer
Shyanne Ramsey is a junior and this is her first year writing for The Wildcat news staff. She has always loved to write and joined journalism to improve...