Top seniors make sacrifices for academics
Being in the top of the class academically takes a lot of hard work and dedication. Five seniors in particular have made the sacrifice to aim for top academic honors. These top five seniors are Alyssa Alcantara, Grant Chapman, Taylor Howe, Emma Johnson, and Sarah Johnson.
"I have put school and grades before anything else and made sure that anything that had to do with school came first. This means I missed out on some fun plans and free time to secure my ranking," Emma Johnson said.
"I am a smart individual but I have always had to work much harder to maintain straight A's for my four years. I always put my school work before any fun with friends or time to chill. I always make sure to be caught up or honestly ahead of schedule in my classes before I do anything fun," Taylor Howe said.
"I had to work hard to get where I am ranked in my class, I haven't really had to sacrifice anything except time," Grant Chapman said.
These seniors have been heavily impacted by many people to help them get to where they are today.
"My parents have always been there to remind me of how important good grades are and also Mrs. Roellig helped me understand my intelligence and made me realize I am capable of more than I thought," Howe said.
"I would say that my dad inspires me, especially in math. I did not believe I was a good math student, but he always studied with me before a test. He always told me to do my best. I was also inspired by Dallas Larsen. He was also involved in many activities, but he did not let his academics suffer. He is a highly intelligent person, but like my dad, he is very humble. Evan Kowal and Kathryn Ricke were incredibly gifted individuals, but they never lost their kindness to others," Alyssa Alcantara said.
Their teachers also had a big influence on their successes in the classroom.
"This would be a tough choice. Mrs. Alcantara taught me how to work in a team, Mrs. Roellig taught me to be more confident in my skills, Mr. Dove always cared about his student's questions and really took the time to answer them accurately, and Mrs. Spunaugle always made me feel comfortable in the classroom," Alcantara said.
All five of these seniors have big plans for their future
"I am going to get my associates degree in Agribusiness and manage an MFA," Sarah Johnson said.
"I plan to go to Northwest Missouri State University in the fall and either research bacteriophage therapy or become a speech writer. I am not sure what I am called to do yet, but I believe God has a plan for my life," Alcantara said.
" I will attend the University of Evansville on a softball scholarship and obtain my desired degree, but I am still unsure of what that is right now," Howe said.
"After high school I plan to go to college and make money," Chapman said.
The top seniors advise other students to go above and beyond what is expected and to be active in the school.
"A tip that I would give to those who also want to be academically successful is to just try hard and you'll succeed," Chapman said.
"I would say to always strive to do your best. If you are bored with the expectations, go above it. Do not do the bare minimum, but reach for the best quality you can give. Also, a positive mindset is important. You cannot go into this thinking you will fail. Finally, remember to live a little. Go out to dances, enjoy spending time with friends. Life is not all about work," Alcantara said.
Leave a Comment
About the Contributor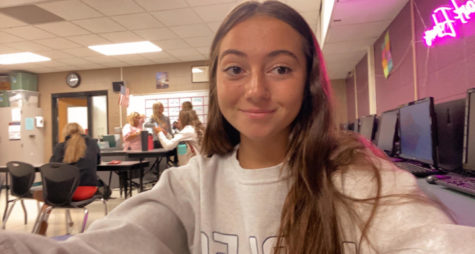 Keira Mostaffa, Managing Editor - The Wildcat Online
Sophomore Keira Mostaffa is in her second year of the Wildcat news production. In Mostaffa's first year on staff, she served as a staff writer then was...