Softball, baseball teams start season strong despite rainouts
Softball and baseball started practices on Feb. 28th.
"In my opinion, practices have been going pretty well. We do have new girls this year that have never played on a competitive level or played at all, and they are picking up pretty quickly and making amazing progress," senior third baseman Madison Coskey said.
"Practice has been going well. It's just a couple guys being dudes on the diamond," freshman pitcher Joshua Bunch said.
Players are excited to get the season started. Softball's regular season started March 26. Baseball's regular season was supposed to start March 18 but because of rain, their first game was March 21.
"I am looking forward to my first game because it's my senior season and I just can't wait to start playing," senior first baseman Karlie Jones said.
"I am looking forward to games because I have not been able to play baseball for a couple of years due to an injury," sophomore first baseman Devon Boul said.
"I'm looking forward to playing my favorite sport with all of my friends and having a good season," freshman pitcher Brylee Brewster said.
Baseball's jamboree was held on March 15 at Smith Cotton. The Wildcats took the dub 4-1 against the Smith Cotton Tigers. They fell to the Boonville Pirates with the score of 7-0.
"For the first game, it went very well, but we still have many things to improve on," junior right fielder Gage Whitaker said.
Softball's Jamboree was canceled. Their first game was March 26. They played the Lincoln Cardinals and beat them 15-0.
"I think beating Lincoln sets the tone for the year, and proves it will be a good season," freshman shortstop Haylee Cobb said.
"We showed a lot of strengths in our first game that make me even more excited for the season, but I would say hitting in crucial situations and with runners in scoring position will push us the extra mile when it comes to post season play," senior catcher Taylor Howe said.
Softball and baseball have been pretty unlucky with the weather. Baseball has had two game cancellations and softball has had one due to rain. They have also had many practices inside due to fields being wet which affects the team negatively.
"Practicing inside affects us poorly because we have limited things we can do inside and limited space," sophomore second baseman Olivia Strange said.
The baseball team had their first in season game against the Greenridge Tigers on March 21. The boys beat the Tigers 16-0 in the third inning.
"I think we overall played pretty good for our first in-season game. I think we need to work on more active hitting and adjusting to different pitchers," Bunch said.
With former head softball coach Steve Larson retiring from coaching, Megan Daleske, who was once an assistant coach, has now taken over his position. Kelly Eierman is back as an assistant coach and Kya Schepker has also joined the coaching staff.
Baseball welcomed a new coach, Brett Bybee. Bybee is a former coach at Skyline and brings many benefits to the team.
"Coach Bybee is making good contributions to our pitchers," Boul said.
Leave a Comment
About the Contributor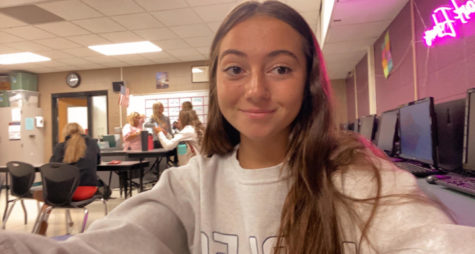 Keira Mostaffa, Managing Editor - The Wildcat Online
Sophomore Keira Mostaffa is in her second year of the Wildcat news production. In Mostaffa's first year on staff, she served as a staff writer then was...