Wrestlers see results of training as season begins
Wrestlers have worked hard to get in shape for the start of the wrestling season. Since the season started, some of them have already been seeing success.
"I have been doing extra weight lifting and running along with the daily practice," sophomore Marlee Street said. Street has been wrestling since her eighth grade year. She fell in love with it after she made her opponent cry.
The wrestlers have many goals and expectations for this season. Junior Nick Bagley hopes to qualify for the state tournament for the third year in a row, but is working toward making it on the state podium.
"My expectation is to have a great season, way better than the last two years," Bagley said. "I do believe I will make it to state again this year because I have improved a lot from past seasons." Bagley has had a strong start, placing first in the Ray-Stockdale Invitational tournament in Knob Noster on Dec. 4. Other medalists were Donovan Campbell, Coehen Walton, and Drake Murrell . At the Versailles Tournament on Dec. 11, Skylon Boone placed first in the weight class 125, Brooklyn Jackman second place in weight class 235 for the girls. Donovan Campbell placed third in 113, Sonny Garrett placed fourth in 120 weight, Bagley placed second in 138 weight, and Hudson Karr placed fifth place in 145 weight.
The wrestlers are looking forward to improving and the thrill of the competition for this season.
"I am always looking to get better at the sport and I also enjoy the feeling at a tournament with all the excitement and adrenaline in the stadium," freshman Drake Murrell said. " I also am looking forward to the normal season with multiple meets a week."
This year the wrestling team had 16 wrestlers and some new coaches.
To prepare for the wrestling meets the coaches have had the wrestlers working their technique and doing conditioning. They decide who wrestles in each weight class. There can only be one wrestler per weight class, except for some weight classes.
"To determine who wrestles varsity in that particular spot, they wrestle off in a best of three series, the winner gets the weight class," assistant coach Nathan Parker said.
Other than the coaches preparing them, the wrestlers prepare themselves in other ways.
"I'm preparing by eating the right stuff, conditioning hard in and out of practice, going to wrestling camps, and getting more experience under my belt," Bagley said.
The one-on-one aspect of wrestling is one thing that some love.
"I wrestle because I love it. It is a different feeling than any other sports. It's just you and the guy across from you," Bagley said.
Leave a Comment
About the Contributor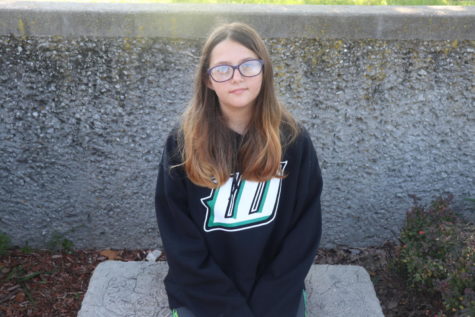 Heather Terry, Staff Writer
Freshman Heather Terry is new to the newspaper staff this year. She joined the newspaper because she enjoys writing. Terry is looking forward to covering...