Student uses art to cope with life
As Rian Dotson started his junior year, he has focused on school work and art projects. Dotson first got into doing art in his pre teen era.
Dotson uses art as a way to express his emotion and as a coping mechanism.
"Art is a place I can use as a venting source for stress and things," Dotson said.
A lot of times, artists will focus on one thing that they like to do and that will inspire them for projects. Dotson focuses on making art not only to inspire himself, but also other people around him.
"I painted a picture of one of my chickens and gave it to my mother and it's on our fridge," Dotson said.
Every artist has their own influences and personal goals. One of Dotson's biggest influences is musician Will Wood.
"He is not afraid to be himself and his music is a form of venting to me," Dotson said.
After high school Dotson knows exactly what he plans to do
"I plan to go into biology, specifically Zoology. I have a fascination with life and I try to preserve it – like painting a scene of wildlife, crafting with the feathers my birds lose, and taking pictures. The natural world, in my eyes, is art in itself," Dotson said.
A close friend of Dotson, sophomore Jaxton Todd, said he appreciates his friend's work.
"I haven't seen many, but the sketches in his sketchbook are aesthetically pleasing," Todd said.
Another friend, junior Taylor Banner, said he has noticed Dotson's creativity.
"We had an art class together and we sat at the same table. He would always draw really interesting things, like a plague doctor mask," Banner said.
Leave a Comment
About the Contributor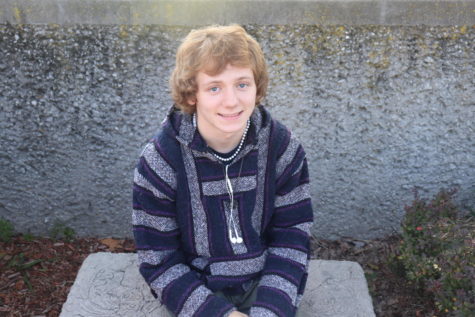 Parker Gregg, Staff Writer
Sophomore Parker Gregg is in their first year as a part of the newspaper staff and is excited to learn more about what goes on behind the scenes. They...