Cross country runners will take love of running past high school
A love of running will follow cross country runners even after their high school competitive days are over. These athletes vow to keep running to relieve stress, stay fit and have fun.
The 2021 cross country season is well underway. Even with the warmer weather being a struggle they are pushing through to cooler temperatures.
"It started off early in the season hot and humid, but it has cooled off some. Hopefully the season ends on a nice and pleasant cool note," head coach Ehren Banfield said.
As the season slowly comes to an end, the runners have started thinking about what they plan on doing with their running careers outside of high school.
"I do not plan on running competitively, but I plan on running on my own or with a group. I really love to run, and it's a great stress reliever for me," senior Alyssa Alcantara said.
Alcantara has had success this season at Stockton placing 2nd with a time of 22:03.4, and at Bolivar SWCCCA meet with almost 230 runners, placing 10th with a time of 22:03.4, making a new personal best at that course by a whole minute.
Junior George Montez has also found success on the cross country course this season. He placed 6th at Sedalia with a time of 19:09, and again at Stockton placing 14th with a time of 19:24.46.
Montez has considered running in college, but, like Alcantara, doesn't think he will run cross country past high school.
"I've had a couple offers, but I don't think I'm going to accept any," Montez said.
As the seniors final season comes to an end they think back on how they started.
"I got into sports because running is something I've always liked and enjoyed doing," junior Logan Schockmann said.
Schockmann placed 8th at the Sedalia meet with a time of 19:30, and at Bolivar with a time of 20:28.72 placing 22nd.
Other standout runners this season have been senior Natalie Johnson placing 8th at Sedalia, and then at Bolivar placing 20th with a time 27:02.59.
Alcantara and Montez both ran in the state contest last season. She had placed 77th out of 153 runners with a time of (22:37) and it was her third year to qualify for state. Montez placed 77th out of 162 runners in the state. Montez qualified for state two years in a row and improved his state time by 44 seconds last season.
The athletes have some secrets to their success on the courses and seem to really enjoy the sport. Montez has to start off a meet with a ritual for good luck.
"When I show up I will get off the bus and go walk the course, which is 3.1 miles. I see who my enemies are and then I will go jog a mile and then go warm up," Montez said.
For some runners, running has really helped them in their daily lives.
"Running to me is one of my favorite things to do. It has given me so many great experiences and opportunities I would not have had otherwise. Most of my friends and my greatest accomplishments have been tied to running. At the end of the day, I just like to do long runs and talk about philosophy and great conundrums, like how the moon was created," Alcantara said.
Leave a Comment
About the Contributor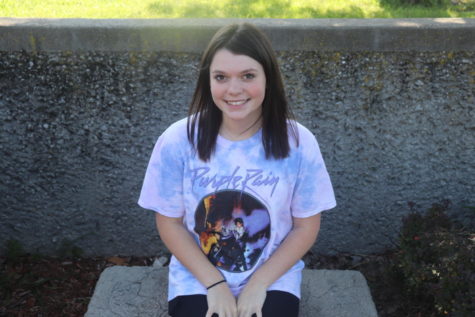 Olivia Strange, Staff Writer
Sophomore Olivia Strange is entering her first year of journalism. She's really looking forward to being more involved in her school through this class,...