Class of 2021 prepares for life after graduation, reflects on school days
As the class of 2021 gets ready to graduate on May 22, they remember the lessons they learned in their school days and anticipate bright futures.
Kameron Andrews, son of Amanda Rose, plans to stay in Missouri and pursue his dream to become a real estate agent. Andrews played football for one year during his high school. Andrews said what he will miss the most about high school is "the lack of responsibilities."
Austin Antwiler, son of Lisa Antwiler, plans to stay in Warsaw and make a "stable enough living to see tomorrow." During his time in high school, he was involved in band and FBLA. "Don't worry about your schoolwork, or your grades, or other people's opinions. Worry about the people you meet, the friendships you make, and the experiences you have."
Jesse Arms, son of Dena and Dennis Arms, plans to stay in Warsaw and look into a welding career later in life. He was involved with band and jazz band. Some advice he would like to give is, "make school as fun as you can."
Shane Ashlock, son of Mackenzie Barnes, plans to move to Lake of the Ozarks and to keep winning in motocross and go pro. During his time in high school he was involved in football, basketball, wrestling, baseball, and track. "Don't be scared to be who you want. Don't pay attention to what others say about you."
James Baumli, son of Johnny Vannattan, wants to try his hand as an animator. During high school he was involved in FFA, FCCLA, and trap. One of his favorite memories is, "probably the time I accidentally threw my friend's backpack on the roof of the school."
Cameron Berry, son of Christopher Berry and Christina Porterfield, wants to make money and live life to the fullest. During high school he was involved in fishing and FFA. He will miss his friends.
Morgan Branson, daughter of Michelle and Justin King and Wayne and Suzy Henry, plans to move to attend University of Missouri-Columbia to become a lawyer. During her time in high school she was involved in cheer, FFA, and NHS. She said her best high school memory was "Echoes 2021."
Austin Brazel, son of Robin Brazel, plans to attend State Fair Community College and open up a business. Brazel participated in basketball, FFA, FBLA, pep club, and baseball during high school. "I heard it a thousand times, but didn't take it seriously enough. High school really is some of the best years of your life, be a good student, make friends, and get involved and you'll love it."
Bradley Brown, son of Steve Brown and Christina and Paul Eason, plans on traveling the world playing professional disc golf. During his time in high school, he was involved in archery, art, and baseball. Some advice he would give to younger students is "don't care what people think, they will forget who you are anyway."
Brennon Brown, son of Gerald and Samantha Brown, plans to go to the military after high school. Brown's favorite memory from high school is his sophomore year when he got to school two minutes before the bell rang and still made it to class on time. Some advice Brown would like to leave to younger students is, "do your work and just pay attention, at least enough to pass your classes."
Dragon Coke, son of Joe and Melissa Coke, plans to move to Springfield and join the union or get a career in construction. During high school he was involved in football and wrestling. Some advice he would give is "do sports, hang out with your friends, just live in the moment cause it ends fast."
Rheanna Coke, daughter of Angel and Frank England, plans to attend the University of Central Missouri to major in business and minor in psychology. She participated in student council, FBLA, FCA, newspaper, yearbook, pep club, and volleyball during high school. "I will miss playing volleyball and making all the friends that I have through that." Some advice Coke would like to leave to underclassmen is, "be confident in everything you do; fake it until you make it."
Haven Collins, daughter of Rhonda and Curbie Flinn and Jay Collins, is currently studying at State Fair Community College to pursue an associates degree. After that, she plans on transferring to a university to finish a degree in animal science During high school, she was involved in volleyball, track, and FFA. "Do it while you can, don't have any regrets when you get to walk across that stage."
Trevor Coon, son of Twilla and Paul Malkerson, plans to attend Missouri Valley College on a football scholarship and become a physical therapist. Coon participated in football, track, and basketball during high school. His advice is "don't slack when you first get to high school. It will be easier your last year."
Megan Cooper, daughter of Lawrence and Amanda Cooper, plans to become a veterinarian. During high school she was involved in choir. Some advice she would give to younger classmates is to "Start Strong, Finish Strong."
Lucas Culbertson, son of Jeannie Culbertson, would like to attend Missouri University of Science and Technology. He was involved in band, with band competitions being his best memories from high school.
Drake Dotson, son of Chris and Stormy Dotson, played football at WHS. He plans to get a job and work his way into UFC or football. He advises younger students, "if you don't control your emotion, your emotion will control you."
Haley Dwyer, daughter of Steve Dwyer, plans to attend State Fair Community College and then transfer to a four-year college to major in secondary education. She plans on being a high school history or geography teacher. She was involved in Madrigal, Academic Team, varsity cheerleading, NHS, Math Club and StuCo. "I will miss the closeness I have with my classmates. When I go to college, it will be a whole new batch of people who I am not familiar with, but that is also an exciting factor of graduating and moving on to better things."
Ameer Evans, son of Tevin and Andrew Lindsey, plans to attend a trade school to "Live a good life and have a well-paying job. During high school, he participated in the choir. "Be kind to others and do your best," is some advice Evans left.
Kylee Fajen is the daughter of David and Brandy Fajen. She will be attending Evangel University in Springfield this fall to play softball and to earn a degree toward becoming a dentist. At WHS, she was active in softball, volleyball, track and FCA. Her advice is to "put God first in everything you do."
Zak Fennel, son of Jamie Byers and Chris Ramirez, has joined the Air Force. Fennel participated in basketball and track during his high school years. "Work your hardest, it will pay off in the end."
Ariel Givens, daughter of David and Brenda Givens, plans to attend the University of Central Missouri in Warrensburg to get her bachelor's in business. She plans to work as a diesel mechanic until she has enough money to open up her own shop someday. During her time in high school she was involved in speech, cheerleading, dance, women's choir, and Madrigal. "My favorite memory was my sophomore year, getting one of the lead roles in the school musical, and getting to perform with not only my friends, but my sisters."
Heaven Grooms, daughter of Cyrus Grooms and Rebecca Miller, was involved in FFA at WHS. She plans to attend a community college in Sedalia. "Enjoy what time you have in high school because you're going to miss it more than you think."
David Harding, son of Sheila Kirschner, plans to continue to live in Warsaw. Harding's future plans are to get a job. Some advice Harding is leaving for younger students is "Keep your head up."
Starlah Harrison, daughter of Robert and Madalyn Harrison, plans to work at Little Caesars in Sedalia and earn enough money to get her own house. The thing she will miss most about high school are her two favorite teachers, her friends and the food.
Arianna Herrick, daughter of Tiffany Condray, plans to move to Sedalia to attend State Fair Community College and become a nurse practitioner. She would love to live on a really big farm with a lot of animals. She was involved in archery, speech, and band during high school. Some advice Arianna would give is "work hard and don't screw around or it'll screw you over in the end."
Kyleigh Hines, daughter of Amy Romans, plans to attend Missouri S&T for environmental engineering, get a job helping make the world a little better, and get to spend lots of time with her family. "I want to see everything I can, and do it all with people I love!" In high school, she was involved in Speech, FFA, Drama, NHS, and Math Club. One of her best memories is, "speech bus rides were always so much fun. I loved the energy going to a competition, the nerves through the day, and going back on the bus with music blaring. Picking just one is pretty much impossible."
Seth Huffman, son of Patricia Robertson and Mike Huffman, plans to attend the University of Missouri S&T to get a degree in engineering and work in the automotive industry. During high school he was involved in student council, math club, art club, and FBLA. He will miss his friends he made at WHS. He advises other students, "don't sweat it."
Rorie Jenkins, daughter of Rebecca White and Jared Jenkins, plans to attend the University of Missouri- Kansas City and to do occupational therapy for the US military as a GS and travel the world. Jenkins played volleyball in high school. "My best memory from high school was getting to attend overseas high school and travel to different countries for sports."
Jamie Jorgensen, daughter of Mary Jorgensen, was involved in cheer, band and choir. She will attend State Fair Community College this fall. She wants to earn a programming degree and design her own video game. Her advice is to, "always do your best right from the start that way you can never regret not pushing yourself for better."
Chloe Kaneaster, daughter of Jennifer Kaneaster and Ryan Cochran, plans to go to attend Associated Training Services trade school for heavy equipment operation. During her time in high school she was involved in marching band and jazz band. Her best memories of high school are skipping class and taking naps, yet she advises younger students to actually show up and do their work.
Emmaleigh Kowal, daughter of Russell and Dina Kowal, plans to attend MacCormac College to become a stenographer. During her time in high school she was involved in FFA, NHS, Quill and Scroll, archery, math club, speech team, journalism, color guard/marching band, and A+. One of her best memories of high school is, "definitely spending late nights working on the newspaper with Mrs. Adler, I won't miss it, but I spent a lot of my time in her room."
Lauren Kreisel, daughter of Brenda and Richard Kreisel, will attend the University of Missouri – Kansas city and hopes to finish her education with a law degree and serve in public office to make a change in the world. She was involved with Academic Team, the A+ Program, competitive/studio dance, Dance Team, Madrigal choir, Math Club, National Honor Society President, Science Club, Stream Team, and Student Council. Some advice she would like to give is "Do not let what other people think affect how you live your life. Not everyone in life will like the person you are and who you will become. Shoot for the stars and don't let anyone knock you down."
Autumn Krueger, daughter of Cassandra and Nick Krueger, wants to get started with an apprenticeship in tattooing and hopefully start a small side business for customizing shoes. During high school, Krueger was involved in marching band and art club. "High school goes by fast your last couple years, but don't expect it to be easy."
Jesilyn Krueger, daughter of Mandi and Kyle Krueger, plans to go to State Fair Community College, then transfer to Central Methodist University, and then open her own business or real estate agency. During her time in high school she was involved in basketball, volleyball, FCCLA, and ProStart. Her best high school memory was "when our class got hyped up for homecoming weeks, games, and the junior and senior chants."
Kolton Krueger, son of Kyle and Mandi Krueger, plans to attend Missouri Valley College in Marshall and play football there. During his time in high school he played football and basketball. One piece of advice he would give to underclassmen is, "don't take your time in high school for granted."
Lindsey Lampe, daughter of Sarah and Eric Lampe plans to attend State Fair Community College to become a radiology technician and then a radiation therapist. Lampe's favorite memory from high school is the Homecoming parade. "Make friends! It will make everything much more fun."
Paul Landsberg, son of Paul and Casey Landsberg, participated in band, choir, CTC, football, math club, pep club, and FFA during his high school years. He plans to join the IBEW to make a career in electrical work. He wants to retire and have cattle in Wyoming. One of Landsberg's favorite memories is winning his first game his freshman year in football.
Angel Loney, daughter of Angel Grant and Amber Brown, plans to work at Truman Medical Center with her mom and eventually save up enough money to build her dream home. She was involved in track her freshman year. "Never give up when school gets hard, you must keep pushing yourself towards your goals."
Kaleb Long, son of Andrea Bradly and Jim Long, plans to find a job and work. One piece of advice he would give a younger student is, "don't slack off and don't sleep in class, listen to your teacher, they know what they are talking about. Don't be late for school and don't give up."
Derek Maddux, son of Vanessa and Brian Maddux, plans to move to Warrensburg and get a better job. Maddux participated in FFA throughout his high school career. One of Maddux's favorite memories from high school are all of the FFA trips. "You get to see your friends and it's fun, but do your work and don't be lazy."
Justin Martin, son of Michelle Mather, plans to move to Blue Springs to work for IBEW local 124 as an inside wire man. Martin participated in football, wrestling, track and field, and baseball throughout high school. Some advice Martin has left for students is to just have fun.
Jake McShane, son of Tim McShane, plans to move to Oregon. During high school he was involved in football. A piece of advice he would give is "it gets easier, the hardest part is doing it everyday, but it gets easier."
Lea Mebruer, daughter of Amy and Alan Mebruer, plans to study radiology at the University of Hawaii at Mānoa. She was involved in volleyball, basketball, track and pep club while at WHS. "Don't stress too hard. Live your best life."
Grady Miller, son of Jim and Derenda Miller, plans to attend State Fair Community College and transfer to a four-year college to attend seminary school, get his mortuary license and go into the funeral business. During his time in high school he was involved in football, choir, speech and wrestling. "We are always much more than what we think we are. Think big and bold when it comes to your strengths and skills. They are just waiting for you to discover them."
Grant Miller, son of Jim and Derenda Miller, plans to move to Sedalia and attend State Fair Community College. He would like to be a teacher. Miller participated in Madrigal during his high school years. Miller's favorite memory from high school is "all the times I screamed in the hallways during the state walks."
Joe Montez, son of Heather and Chris Montez, plans to attend the University of Central Missouri, be in the ROTC, and then transfer to active duty as an Army officer. During his time in high school, he was involved in NHS, Student Council Class President, math club, baseball, and basketball. One of his best memories from high school is, "when Tyler Simons hit a clutch three pointer and then Matt Luebbert hit the game winner."
Darby Mostaffa, daughter of Kelly Wenberg and Demetrius Mostaffa, plans to attend the University of Central Missouri. She hopes to teach high school English or write for the New York Times. She was involved in newspaper, StuCo, band, jazz band, cheer and track. Her best memory in high school is "second semester sophomore year Howerton's class"
Trey Palmer, son of Cathy and Will Palmer, plans to get a real estate license after graduation. Palmer participated in basketball, baseball, cross country, and pep club during his high school years. Palmer's favorite memory from high school was scoring his 1000th point and playing sports with his friends.
Cassidy Parks daughter of Julie and Chris Parks plans to go to farrier school at Oklahoma Horseshoeing School. During high school, she participated in FFA, rodeos, and cheerleading. She said her best memories are FFA trips.
Jordan Pierson, son of Brandy and David Fajen, plans to attend a trade school after graduation. His long-term plan is to live in Warsaw and provide enough for his family. During high school he was involved in FFA. He advises younger students to "stay on top of your work and don't take school activities for granted"
Gabrielle Porter, daughter of Jennifer Porter and Bonnie Westfall, plans to attend the University of Missouri-Kansas City to study instrumental performance with an emphasis in flute. "I hope to one day be in a film symphony orchestra and record movie sound tracks." Porter participated in band, jazz band, winter drumline, Madrigal, women's choir, math club, English club, science club, Stream Team, Academic Team, National Honor Society, student council, prom committee, and pep club. Porter's favorite memory from high school was throwing half melted marshmallows across the gym during the junior chant.
Aerial Quigley, daughter of Clint Quigley, plans to move to Independence and make music. During her time in high school she was involved in band, choir, color guard, and marching band. One piece of advice she would give to classmates is to "keep up with yourself, don't fall behind."
Luke Rasberry, son of Stacy Rasberry, Lauren McDaniel, Jamie Rasberry, and Kristen Rasberry, is considering attending Ozark Technical Community College, but is also considering a culinary career. During his time in high school he was involved in FFA and FCCLA. One of his best memories is, "arguing with Mr. Waller for over a month."
Marc Schrader, son of David and Brandy Fajen, plans to attend State Fair Community College and to become a car mechanic. During his time in high school he was involved in FBLA and FCA. "Don't be stupid and get in trouble, just have fun in high school and save your money; don't spend it on candy and unnecessary stuff."
Zachary Sharp, son of Latricia Sharp and Darby Sharp, will attend Iron Eagle Welding Academy after graduation. During his time in high school he was involved in football, baseball, and FFA. His advice is "don't take it so serious, have a little fun."
Breanna Shaw, daughter of Crystal Shaw and James Moody, plans to live with her amazing grandmother here in Warsaw and go to college to be a teacher. Shaw participated as the wrestling manager her junior year and her favorite memory from high school is her second hour PE class. Some advice for younger students is to "show up to school and do your work. It might not be the thing you wanna do but it will pay off in the long run."
Brooke Spry, daughter of Jamie and Earl Kelso, plans to move to Sedalia and attend State Fair Community College to get her business degree and either be an accountant or loan officer. She was involved in volleyball, FBLA, NHS secretary, Stuco treasurer, and yearbook editor-in-chief. Some advice Brooke would like to give is "Not everyone will like you, only worry about the ones who do."
Taylor Spry, daughter of Tracey and Jerry Spry, plans to continue her education at the University of Missouri – Kansas City for criminology. After college, she plans to move to the East coast and work for the FBI or Homeland Security as a special agent. During her time in high school she was involved in NHS, Stuco, pep club, FBLA, volleyball, basketball, track, and prom committee. One thing she will miss about Warsaw is, "I'll miss the small town feeling. Everyone knows everyone. You'll always have a support group no matter what you're going through. The whole town will have your back."
Jordan Steiner, son of Jami and Steve Steiner, plans to get a good job, get married, have children, and live life to the fullest. During his time in high school he was a part of StuCo and Pep Club. Some advice he would give to an underclassmen is "just have fun and be yourself."
Douglas Stivers, son of Shannon and David Green, plans to attend State Fair Community College and get a job. Some advice he would give is "never give up on your dreams."
Logan Strunk, son of Sandy and Danny Strunk, plans to attend Baptist Bible College on a baseball scholarship. During his time in high school he was involved in football, baseball, NHS, and pep club. One of the things he will miss about high school is, "being able to see everyone and make memories every day."
Jesse Sturgill, son of Tonya Seal and Randy Sturgill, plans to attend Missouri Southern College to become an accountant. "Get to know the people around you while they're still around and do your work and you'll have plenty of time to do whatever you want."
Jaelyn Swisher, daughter of Johnna Swisher and Brett Swisher, is undecided about what she will do after graduation. She was involved in FFA and NHS while in high school. The thing she will miss the most about high school is "stealing my aunt's snacks out of her secret stash."
Jared Thomas, son of Tammy and Tim Thomas, is a welder currently living in Joplin, but plans to travel after the graduation ceremony. Thomas was an early graduate and attended Iron Eagle Welding Academy. He participated in FFA and Madrigal during high school years. "Going on trips was my favorite high school memory."
Isaac Thompson, son of Heather and Kevin Thompson, plans to live with his parents and is undecided on future career plans. Some advice he would leave to other students is, "the last four years of school might be hard, but the hard work pays off."
Sabrina Uptgraft, daughter of Lena Uptgraft, plans to attend Cottey College and get a teaching degree in English and theater, and study acting and writing. During her time in high school she participated in color guard, choir, band, and speech. Some advice she would give is, "you are going to get through it. Listen to your heart and cut the toxic people out of your life."
Alexis Walton, daughter of Dena and Mike Walton, plans to attend State Fair Community College and become a paralegal. During high school she was involved in volleyball, FBLA, and wrestling. One piece of advice she would give is "Don't take high school for granted, live your life to the fullest and get your school done. Have fun until adulthood hits you."
Eleanor Wassman, daughter of DeeAnna and Kevin Wassman, plans to attend the University of Kansas in Lawrence, Kansas and to become a successful nurse practitioner. During her time in high school she was involved in softball, band, FFA, and journalism. Some advice she would give is "don't work your life away, you have your entire life to work and pay bills. Don't stress yourself out now in high school with all of that, it's how you get burnt out."
Kailey Waters, daughter of Theresa Branigan, plans on staying in Missouri and having a career in the automotive industry. During her junior year she was the manager for the wrestling team. "My best memory in high school is when, in Mrs. Dudenhoeffer's class, my group went to the elementary school and made apple turtles with the kids."
Hallie Wenberg, daughter of Kelly and Jason Wenberg and Tonia Johnson, plans to finish a degree at State Fair Community College to become an RN and get her BSN as well. During high school she was involved in cheerleading. "I will miss all the late nights with friends, cheering and acting like a teen."
Aspen Whitaker, daughter of Megan Cunningham and Brent Whitaker, plans to attend State Fair Community College to earn a degree in nursing and then open her own aesthetician business. She was involved in softball, volleyball, pep club, student council, NHS, and FBLA. "I'll miss everything. I love high school. I'll miss the teachers, students, the pride that comes with coming to school here . . . I'll miss everything."
Attempts were made to contact every senior. The following seniors did not respond: Madison Allen, Brakin Biggs, Timothy Burkhart, Logan Carter, Sebastian Davidson-Thomas, Wesley Drake, Taylor Drum, Zander Fletcher, Austin Flippin, Austin Fox, August Frace, Brendan Griffith, Erin Julian, Sierra Keyte, Michael Koehl, Cody Lytton, Dakota Macon, Lilyan Martinez, Zachary Newsom, Donna Pitts, Lucas Schulte, Jake Steiner, Dakota Sutton, Lily Waller.
About the Writers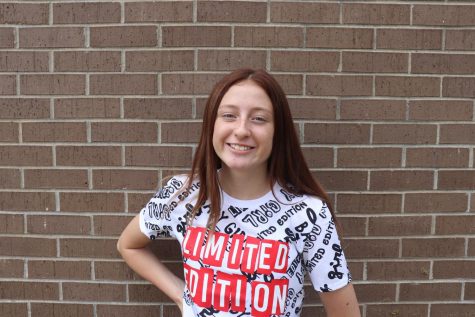 Ava Hughes, Staff Writer
Freshman Ava Hughes is in her first as a member of the Newspaper staff and writing is something that she is very passionate about. Listening to music helps...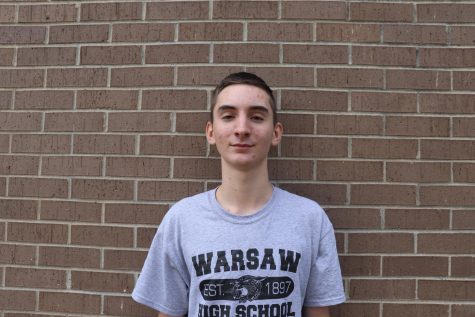 Taylor Banner, Staff Writer
Sophomore Taylor Banner is in his first year on The Wildcat staff. He doesn't have much experience in journalism but hopes to get better at writing because...