Roellig retires after 27 years
  After 27 years teaching (all at Warsaw), math teacher Jowell Roellig is retiring.
     Roellig attended the University of Central Missouri to achieve multiple degrees, including her Master in Administration, Bachelor in Business Administration and in math. 
   Roellig states that her biggest accomplishment is "Getting the teacher of the year award; 97 percent of my students got advanced or proficient on their EOC in 2017." Her other awards include Taco Bell's top 10 teachers in the nation and the Walmart teacher of the year award. Just this school year, Roellig was selected as the Misouri Rural Education State Teacher of the Year.
    Roellig will be greatly missed and her leaving will affect this school immensely. She has taught  at Warsaw through multiple generations. Throughout her career at WHS, she has been the sponsor for the Student Council, Future Teachers of America, pep club, finance club and many others. She has sponsored the NHS and has been leading it for the last three years. She does everything in her power to support her students at sports events and involve herself in everything she can.
   "She cares for students and shows compassion for her job and all her students. I grew up with her daughters, she used to be my principal. She was always good and fair and willing to help students. It's hard to narrow down the impact she has had on Warsaw," Assistant
Principal Cody Wright said.
   Roellig has been loved by many students and she has a reputation for taking care of her students when they are in need. Roellig did a good job at leaving her mark on this school by not only teaching high schoolers but also teaching eighth grade Algebra 1 students. Many students knew of Mrs. Roellig before even entering high school not only because of her interaction with the middle school classes, but also because many of their parents had her as a teacher.
     "Mrs. Roellig has not only taught me, but also my mom and my younger sister. You can tell she really cares about her students and, for me, when a teacher cares about me, it makes me want to try harder in their classes. She will be missed at WHS," senior Darby Mostaffa said. 
   "She's always very bright and has an effect to put people in a good mood, she's more interactive than most teachers, she never leaves anyone out and keeps it challenging. She's always held high expectations for me and keeps me motivated, she's a great person and teacher. It's sad she's leaving," junior Marcus Krisel said. 
 Roellig says that students are, hands down, the only thing she will miss. She's sad to say goodbye to so many students but is happy to explore life outside of school. 
    "Work ethic is all anyone needs to be successful, every student has something they excel at, we just need to encourage and support their dreams and goals and set high expectations," Roellig said. 
View Comments (2)
About the Contributor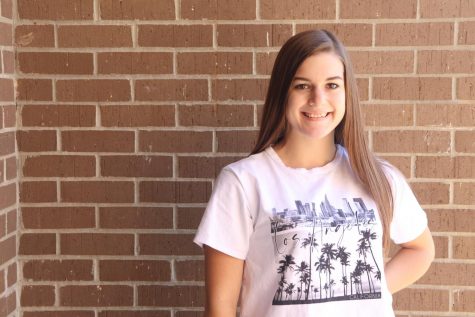 Shyanne Ramsey, Staff Writer
Shyanne Ramsey is a junior and this is her first year writing for The Wildcat news staff. She has always loved to write and joined journalism to improve...