Golf Team enjoys first game after 2020 season cancellation
   As the golf team starts their 2021 spring season, they are learning  more about the sport, how to work together, and new strategies. 
   Last year's golf team only played two weeks due to the COVID-19 cancellation. This year's golf players are working  their hardest to have fun, and enjoy a lifetime sport. 
   "My favorite thing about golf is it's a lifelong sport. Start your kids early and they will play it the rest of their lives," head golf coach Dennis Larson said. 
   "I love how independent the sport is and you can just do everything yourself," sophomore Ashlyn Laue said. "We didn't get to play last year so it will be fun to get out there and play our first game."
   The team practices at the local golf course in Warsaw. The first match was on March 23 at the Higginsville Frostbite Scramble.
   "The student athletes quickly realized why they called it the frostbite scramble when it was raining, cold, and really windy", Said Larson,  "For most of our student athletes they are playing in their first ever match this week and I couldn't be more proud of the effort they gave battling in the weather conditions we had."
   Warsaw would finish in 4th place with Coehen Walton and Carson Bonner leading the groupings for Warsaw shooting a 54. Behind them were Bella Morrison and Brayden Elmer shooting a 59
   Team players were ready for their first match and were excited to get out there with friends and play the game that they had been waiting to play. 
   "[Golf] was just something fun that I could do with my friends," sophomore Anna Siegel said.
   "Most people will say you hit the ball into a hole but to me golf is a strategy sport. You want to know how far you are from the hole and what club you will need to use and how you want to play it," Larson said. "This year's kids are definitely working hard. I have 10 kids which is how many are allowed to play in a match and they all know they will be playing at the first game."
   Despite the difficulty and precision involved in the sport, many people find it to be a good release of stress. 
   "Golf helps me with my anxiety and relieves stress,"  freshman Carson Bonner said.
   "Golf helps release stress because it's so quiet and you get to spend time on your own and only rely on yourself," Laue said.
Leave a Comment
About the Contributor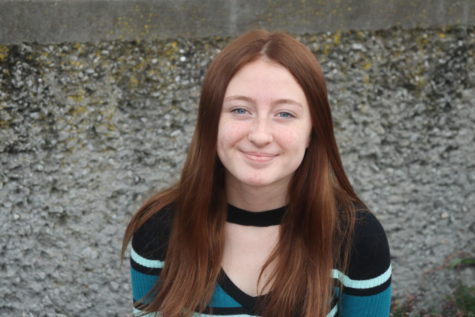 Ava Hughes, Photo Editor
Sophomore photo editor, Ava Hughes has been a member of The Wildcat staff for two years and is very excited about it. Writing is something she is very...