Substituting inspires Emily Banfield to pursue new-found passion for teaching
Emily Banfield's experience as a substitute for the Warsaw School District revealed her passion for teaching. Since then she has started her journey to becoming a teacher and is now a student teacher in the business department at WHS.
"A few years ago I began substituting in the schools. I discovered that I really enjoy the classroom and students and so I decided to pursue certification," Banfield said.
Banfield grew up in Blue Springs, Missouri, and has noticed many changes in her hometown since her time there.
"Back when Blue Springs was not such a metropolis, it used to be that I could see cows in the rolling fields from my suburban neighborhood, whereas now, you looked out from the window of my old home you would see more housing subdivisions," she said.
Banfield attended Blue Springs High School and attended and graduated college from Evangel University with her Bachelor's in Business Administration. Banfield is currently attending the University of Central Missouri for her Masters in Art of Teaching degree and teaching certification.
Although Banfield lived in Blue Springs most of her life, her family moved to Warsaw about five years ago due to her husband's job. Emily has been married to her husband for almost 19 years and they have three children, Nate (freshman), Natalie (seventh grade) and Addi (fourth grade).
"One question that students always want to know is if I am married to Mr. Banfield in the middle school. No. No, I am not. Glad we have that all cleared up! You're welcome Mr. Banfield!" she said.
Before uncovering her interest in teaching, Banfield had a previous profession.
"Previous to pursuing my teaching certification, I worked in the social work field. There's a long story behind that, because it is highly unusual for a person with a business degree to be hired in that field. I loved what I did however, the agency I worked for moved from Missouri to Arkansas, so I worked for another non-profit and developed a resource program for teen moms before my husband and I decided it would be best for our family for me to stay home for a while," Banfield said.
She plans on teaching business education classes. She will be certified to teach secondary classes (high school).
"Let me just put this out there. I believe that business education is valuable for everyone no matter what field or industry you pursue in your future. You will undoubtedly find that the skills and knowledge you learn will be useful to you!"
Banfield has already gained some important classroom experiences from her time at WHS.
"Flexibility, sometimes you need to just go with the flow and not stress out about too much. You want everything to go just right, but when working with people it is so important to be flexible," Banfield said. "There are a lot of little details and work behind the scenes that students don't realize teachers are doing for them."
She advises other student teachers to just be themselves.
"Just be you. Don't try to imitate someone else!" Banfield said.
Business teacher Kimberly Pate approves of the job Banfield is doing in her classroom as well and her students have welcomed her.
"It's nice having the extra help and not just a bunch of students relying on one teacher the whole hour," freshman Olivia Strange said.
"It is strange to hand things over. It is very exposing to a veteran teacher as well as a new teacher. She probably wonders what I think of how she performs, and she probably has her opinions of how I perform," Pate said.
"
I am not worried for my students, because I have seen Mrs. Banfield with students in the previous semester and I know she is knowledgeable and personable."
— Business teacher Kimberly Pate
Leave a Comment
About the Contributor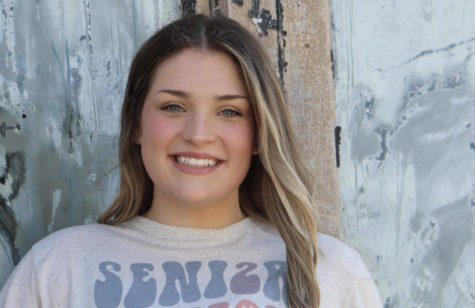 Gracie Comer, Editor-in-Chief
Senior newspaper Editor-in-Chief Gracie Comer has been part of The Wildcat production for four years now. Her freshman year, she served as a staff writer,...