Student hunters find success in 2020 deer season
It was the season when a good amount of people got up at the crack of dawn to go hunting when deer firearm season started Nov. 14 and many students participated in the harvest. 
   According to numbers from the Missouri Department of Conservation, 4,018 deer were harvested in Benton County so far this year and 2,874 of them were harvested during the November firearm season, Nov. 14 – 24.
   Senior Brooke Spry went hunting during both archery and firearm season this year to harvest a deer.
   "It was my first archery hunt actually shooting, 10 minutes before dark he came stomping down the hill ready for me to get him," Spry said. 
   Spry got a 9 point during bow season this year. Students also hunted during the recent rifle season. 
     Junior Ayden Scott went deer hunting the opening morning in Caterville. He had a .243 Winchester breakover rifle. It was pouring down rain. He sat down and watched through the blinds and not even an hour later he saw something.
   "All the sudden from my right came the biggest buck I have ever seen in my life (10 point). It was just running in the middle of the field for no reason and stopped fifty yards in front of me." 
   Scott couldn't shoot him right away when he looked in his scope, it was foggy from all the rain. Scott cleaned it off and shot him. 
   "He dropped dead in his tracks," Scott said.
   Freshman Tylan Williams had an eventful trip. He was out in the woods for about 45 minutes and he somehow managed to fall out the stand because he saw his deer. He pulled the string back on his bow and shot a (point)
   Sophomore Emily Younce was out in the woods for about 45 minutes before she saw her first deer. 
  "I didn't know if I wanted to shoot that one or wait for a better deer to catch," she said.
  Using a .30-06 rifle, Younce was successful in her hunt.
Junior Remington Laboube went out to his deer stand at 1:00 November 15. He sat in his deer stand for an hour until he saw a buck (10 point)  and 10 does.
    "I was going to pass him up but he was a shooter size, so I shot him," he said. "He didn't run; he walked a yard and dropped dead- clean shot."
Leave a Comment
About the Contributor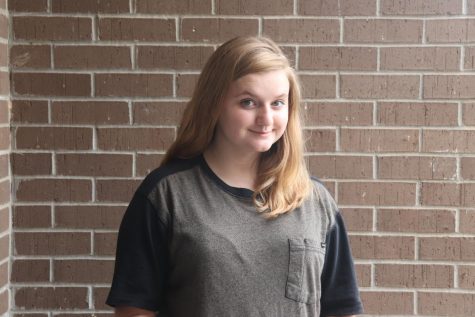 Tori Leann Norman, Staff Writer
This is sophomore Tori Norman's first year as a member of The Wildcat staff. Her long-time love of photography persuaded her to join the staff. She also...