Football season ends in district championship loss
It had been 10 years since the Warsaw football team made it to a district championship game, and that is an accomplishment players are proud of. 
   "It felt good going into the district championship, we knew we could do it, and doing something that hasn't been done in 10 years feels incredible," junior middle linebacker, defensive end and offensive right tackle Cameron Taylor said. 
  Warsaw won against Lone Jack in the first round by a score of 42-7. In the second round the Wildcats defeated Hogan Prep 26-20. Warsaw's District Championship game was against Butler and the Cats lost with a score of 6-40. 
   "When we won round two, it gave our team a boost to go into round three strong," sophomore running back and middle linebacker Nick Bagley said.    
   Bagley is looking forward to having another great season next year and he is in hopes to make it farther next football season. 
  Freshman Denver Frace felt much pride that the team made it to the district championship his freshman year. He has been playing since fourth grade and is a cornerback and a kicker. 
   "Being a kicker on varsity was like a big accomplishment for me," Frace said.
   "It took dedication, but we easily could have made it farther and I definitely wasn't satisfied with how we finished," said junior quarterback Brady Slavens.
   While he had hoped for more, Slavens is still proud of the strength of his team during this difficult season.
 "We didn't just let the games we missed and the time off we had affect our attitudes and how we played," Slavens said.
 According to head coach Ryan Boyer, Warsaw struggled to make some key plays early on in the Butler game and weren't able to capitalize on the turnovers forced by the Wildcats.
 "Warsaw obviously wanted to bring home a District title, but I am very proud of our team and our seniors for the improvements they have made" Boyer said.
  The team plans to continue to build off the foundation of success that the players are building.
  Boyer said coaches told players that they were very proud of them for what they were able to accomplish this year, but that the standards will continue to rise each season.
 "The one thing that stood out the most to me was how our kids handled their season during the pandemic," Boyer said. 
   Boyer gave much of the credit to the senior leadership who handled the changes well.  
  "I thought our kids played hard and stepped up to many of the challenges they faced," Boyer said.
  Senior Zach Sharp, a wide receiver, ended his high school football career this season after playing the sport for six years. What made his senior season tough was the cancellations due to COVID-19.
Leave a Comment
About the Contributor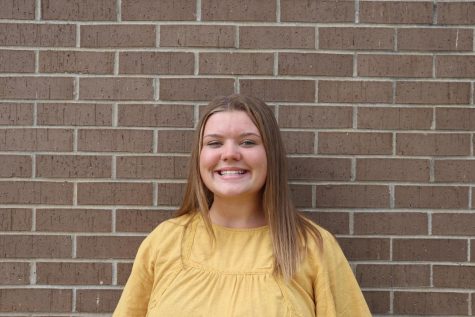 Abi Feltrop, Staff Writer
Abi Feltrop is a sophomore and in her second year of journalism. She is involved in volleyball and track as she throws shot put. Feltrop enjoys photography...