Runners push each other toward goals
   Although the cross country team is small, they focus on a lot of encouragement and teamwork. They push each other to strive for greatness and to finish the races with good mindsets. 
   There are many ways that the team shows examples of teamwork and motivation. Some examples of teamwork may include running with another teammate's pace to keep themselves motivated and lift each other up or cheering them on as they're running the race. 
   "I never run by myself, I always try to pace with someone else," sophomore George Montez said. 
   In order to build endurance, practice plays a key role in doing so. Practice takes place more often than just running after school. Runners have to dedicate some of their own time to running and working on their stamina. 
   "Outside of practice, I go on longer runs with my friend, Dallas Larson, we usually run about six to eight miles," junior Alyssa Alcantara said.  
   With only having seven meets this season so far, this cross country team has shown a lot of improvement from last year. The team plans on using their momentum that they have gained as they go forward in the season. 
   "Logan Shockman ran a half minute faster to start his year off," Coach Ehren Banfield said. 
   This is just one of the many improvements some of the runners have made since last year's cross country season. 
   On Saturday, Sept. 19, the varsity cross country team had a meet in Sedalia at Clover Dell Park. Alcantara placed fifth with the time of 22:05. Junior Natalie Johnson placed 13th with the time of 24:39. Montez placed seventh with a time of 18:21. All three of these varsity athletes set their own personal record at this meet. 
   Saturday, Sept. 26, the girls cross country team ran at a meet in Hermitage. The boys team was not able to attend the meet in Hermitage due to COVID-19 and other extracurricular activities. Although the girls did not place at this meet, they ran with times of 23:18:03 for Alcantara and 25:10:97 for Johnson.
   Although the boys team could not attend the meet on Sept. 26, they finally got to compete again in Camdenton on Saturday, Oct. 3. The Wildcat cross country team had two medalists at that meet. Alcantara medaled, placing tenth, with the time of 21:35:05. This was her fastest time since her personal record in 2018. Montez also medaled, placing eighteenth, with the fast time of 17:48:37. 
  At the Oct. 10 Butler Invitational, sophomore George Montez was the only medal winner, placing 20th.
   The cross country team has shown an exceptional outlook on the season and grown together as a team. With only one more meet before the district meet, Wildcat cross country fans are looking forward to seeing if any runners will qualify for state. Last cross country season, the team had state qualifying runners.
Leave a Comment
About the Contributor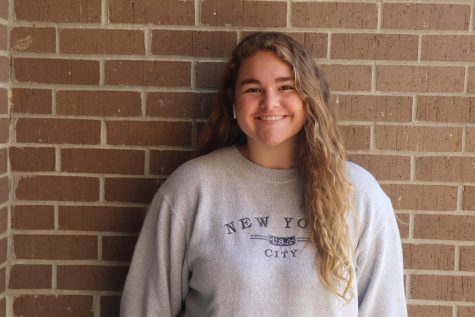 Taylor Spry, Staff Writer
Senior Taylor Spry made an impulsive decision to join journalism for the first time this year. Spry is interested in taking pictures for sports and learning...