Prom dreams dashed, summer date possible
With a global pandemic at the forefront of everyone's mind, a high school prom does not seem all that important, but for students who have planned and dreamed of prom night, prom cancellation is devastating.
Junior class sponsor Jennifer Greene is trying very hard to normalize the situation and to make sure this year's juniors and seniors have a prom. At the moment prom does not have a rescheduled date. Prom was originally scheduled for April 18. The prom committee is going to try for possibly a summer prom.
"As of right now the venue, DJ, and photobooth will remain the same, but if the summer prom is possible there will definitely have to be some changes and the committee will have to get creative," Greene said.
"All the hard work we've put in all year – doing fundraisers during school and on our own time – and possibly not being able to have it is a huge let down. When you start to build a plan and you get a picture of what it will be like in the end, it hurts a little when you don't get to see it through," junior class president Joe Montez said.
Students going to prom this year already had plans and spent tons of money on this special day that every high schooler looks forward to. When it comes to the girls, they begin to prepare months in advance.
"Even though prom isn't until April 18 I bought my prom dress on Feb. 9 so I have plenty of time to prepare and color coordinate," junior Taylor Spry said before the cancellation.
"I started tanning over a month ago, I got my dress over two months ago. I have gotten my shoes and jewelry. I have also made my hair appointment already," junior Brooke Spry said.
Some students have formed traditions over the few years they have been going, traditions that they will change this year.
"My friends and I all get ready and take pictures together before prom," junior Aspen Whitaker said.
"A tradition that I have before prom is going to my friends house with a bunch of girls and putting our dresses on together after getting our hair and makeup done," junior Rheanna Coke said.
Others were getting ready to start new traditions.
"My date and I plan on getting matching shoes and I am getting a spray tan a few days before the prom," junior Darby Mostaffa said.
"I plan on going to my date's house to take pictures with her and her family and then we will head down to the harbor for pictures with friends," freshman George Montez said.
Those who have gotten the chance to experience prom last year had high expectations for this year's prom.
"My expectations for prom are pretty high, I really want to have a good time and make a few memories for my last prom. I expect it to be a good dance in a good location, with lots of good music," senior Zach Chapman said.
"I expect good food and good music at prom this year. I hope everyone makes good memories and has a good time," Taylor Spry said.
"I expect it to be the best prom in my high school years," Joe Montez said.
Now that prom will possibly be cancelled or rescheduled to a later time, students are having mixed emotions.
"It is upsetting to buy your dress for senior prom and then not get to go, but I know it's a small part of life. I think I'm more upset about how hard Mrs. Greene and the juniors worked this year for it to all go to waste, I feel bad for them," senior Lilly Alspaugh said.
"I'm really upset about prom being cancelled because I've put so much work into raising money for it, and I'm upset with the fact everyone has already bought their dresses. It's upsetting for the seniors not being able to remember that last dance with their class and the class under them," Brooke Spry said.
"Personally I understand the reasoning behind it, but it still is something that seniors and friends of seniors were looking forward to because it's one of the last times everyone is together and having fun," senior Parker Love said.
"For me, the biggest thing was spending so much money on a prom dress – as many other girls can relate, but to me, prom being cancelled wasn't the biggest deal. What hurts the most is not being able to walk through the halls ever again as a senior and spending time with my friends that I may never get to see again," senior Rayni Simons said.
Leave a Comment
About the Contributor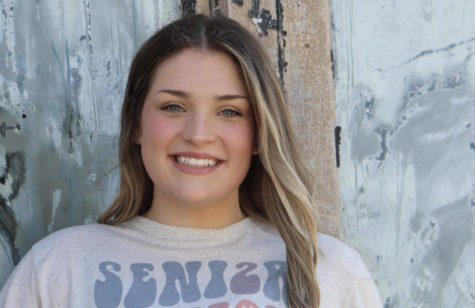 Gracie Comer, Editor-in-Chief
Senior newspaper Editor-in-Chief Gracie Comer has been part of The Wildcat production for four years now. Her freshman year, she served as a staff writer,...