Local business owner takes school support seriously
   Warsaw is a small town community bonded by hard work, dependence on one another, and kindness. One person who truly exemplifies this idea every day is WHS alum Beth Drake. Drake helps WHS and the community any opportunity she has. 
   "I try to sponsor as many clubs as I can. I usually donate to any activity that asks. I used to sponsor the beginning of the school, free t-shirts and have bought many football club cards," Drake said.  
   Drake has long had a passion for her community and her school. Drake owns the convenience store, Beth's Mini Mart. She has run the business for 26 years. Her business is based on the community and how they aid her. She truly appreciates and respects the community for their contribution, and wants to reflect the same attitude to them. 
    "I love giving back to the community because they support me so generously. Without the community, I would have never made it," Drake said. 
   Warsaw is a tight knit community that is run by the help and services of others. It holds people who help in high regard and honor because without them they would not be successful. Beth Drake supports WHS when any opportunity arises, and never expects anything in return.
   "Amongst many other great qualities, Beth has never asked for a "Thank You" for everything she has done," Boyer said.
   "She allows so many different groups set up at her business to help raise funds for multiple causes.There has never been one time that Beth has said "No" when I have asked her to help support our school.  She has donated money, products, etc.," athletic director Ryan Boyer said. 
   "Beth has sponsored my kiddos in many activities & programs, supported our Relay for Life Team and our church youth group," high school administrative assistant Cindy Murrell said. 
   Drake has lived in Warsaw all 54 years of her life and has always searched for ways to help the community, even when she was young. She graduated from Warsaw High School in 1984. In high school she was actively involved in both yearbook and newspaper, and tried her best to spread information throughout the school and community. 
   "I try to do what the community did for me when I was in high school. They helped our school when I attended, and I want to be just as receptive," Drake said.
  Drake's father, Bob Drake, grew up in Warsaw as well. He was an attorney, and her mother, Marlyn Drake, was a teacher. Drake has four children, Scott, Zach, Erika, and Andrea, and many grandchildren. She wants her grandchildren to have the necessary resources for success.
  "I have grandchildren in high school," Drake said. "I think all businesses should help us support our school district because the children are our future."
     Drake is an important member of the Warsaw community, and many people appreciate the work she does within our community. 
Leave a Comment
About the Writer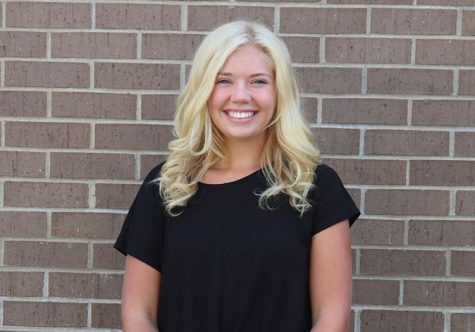 Andrea Merritt, Staff Writer
   Senior Andrea Merritt is known by her family as "bubbles." This nickname definitely describes who she is as a person. She is sociable and creative....