Team adjusts early on in season
As seasons change and athletes graduate and leave their high school team behind, traditions are often never forgotten and appreciated. The boys basketball team at Warsaw carried on their 2019-20 season without their two four year varsity starters, 2019 Warsaw graduates Logan Davis and Matt Luebbert. These athletes helped to set their winning record for the season 19-7.
"We're low on ball handling with Logan gone and lacking a shot blocker without Matt and they both had a lot of out scoring last year so this year we have guys taking on new roles, things like scoring for some of our players will be difficult," junior Trey Palmer said.
Growing and playing without them is something that took time to adjust to but is very possible for this team with a score of 1-3 for the season so far the team is working to improve.
This took some time to adjust and get back into the swing of things. The boys returning to the season playing their first game of the season on Nov 26 at Stockton and falling short 29-40. To then having their first home game on Dec 3 against Clinton again taking the fall 55-89.
On Dec 2-6 the team hosted an all week long tournament on their home court playing hard but falling short 1-2.
The boys seemed to be getting the hang of things on Dec 5, when they took on their familiar rival Lincoln on their home court taking their first win of the season 53-26.
Head coach Scott Floyd speaks on how the season is coming thus far and his expectations for the team for the remainder of the season.
"As a team we look improve throughout the season and hope to be playing our best in February. Our goals remain the same and that is to win both a conference and district championship," Floyd said.
Throughout the season the boys are continuing to work on fundamentals that will help to improve them further throughout the season. The athletes recognize the importance of their practices.
"The point of practice is to prepare you for a game, so we usually run through our plays and we do drills that improve stuff like passing, dribbling and shooting. Giving your all at practice is very important so that you play good during the game," sophomore Grant Chapman said.
For many of these boys basketball hasn't just been a hobby they have acquired throughout school sports, but an outlet of sorts and a way to have fun and stay fit.
"I use basketball as a way to stay fit by playing in and out of practice. A lot of boys on the team, including myself, are in a group chat and we all play outside of practice," freshman George Montez said.
For some players, basketball has always been a part of their lives and they have pushed themselves throughout their lives to become the best player they can be.
"Whenever I would play with my brother when I was younger, I would always be playing against people who were better than me. This is how I would push myself to become a better player," junior Austin Brazel said.
This years seniors on the team are stepping up and setting a good example for the players that will soon fill their spots.
"I influence the underclassmen by teaching them different kinds of moves and smarter ideas in situations on the court," senior Lane Bates said.
Bates furthers this by speaking his mind on some advice he would give to the underclassmen pertaining to the sport.
"Basketball is a tough sport at times, it's a slow grind and takes time and effort," Bates said.
With dedication comes a love for the sport. For many, basketball is, and always will be, a part of their lives and they value the sport very greatly.
"I love basketball; it drives me to complete to my best abilities day in, day out. Basketball has brought me not only fun, but also most of my close friends," junior Joe Montez said.
Leave a Comment
About the Writer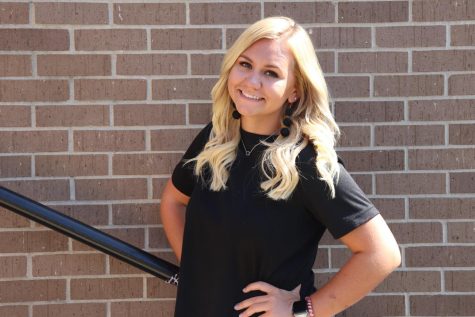 Rheanna Coke, Editor-in-Chief
 Senior Rheanna Coke has been dedicated to journalism for her entire high school career. She is in her fourth year of journalism. Her freshman year, she...