Crushing records and gaining awards
Individual success brings team success in competitive track and field events
Members of both the girls' and boys' track teams have pushed themselves past their limits and created new ones as they bring home team wins and crush school records this season.
While most events involve an individual competitor, the individual success of the athletes have contributed to good team placement at meets.
"I like track because it gives you a chance to compete by yourself, but still get to support your team. We're having a great year," senior Jacob Luebbert said.
The girls team has finished first in three meets this season, Stockton on April 2, El Dorado Springs on April 9 and Skyline on April 11. The girls also brought home second from Butler on March 21 and fourth place at Versailles on April 1.
"I think track is a sport that brings everyone together but you're still competing individually but you're winning as a team," said junior Ariaunna Johnson.
Freshman Alyssa Alcantara won first in the 1600M at Butler (6:10.97) and first in the 3200M (13:37.02). She improved her time in the 3200M at Stockton to 13:29.09 to take first place and again earned a first at El Dorado in the 3200M (13:56.54) and at Skyline (14:11.88).
The women's relay teams have also been scoring points for the team with first and second place finishes in many of their meets this season. The 4×100 team of juniors Rayni Simons, Kya Schepker, Aubrie McRoberts and sophomore Haven Collins won first at Butler with a time of 56.03 and another first place at El Dorado with 54.21. The 4x200M relay team of freshmen Amelia Botteron, Taylor Howe, juniors Aubrie McRoberts and Rayni Simons won first at El Dorado with a time of 1:57.7. The 4x800M relay team of freshman Alyssa Alcantara, juniors Rayni Simons, Andrea Merritt and freshman Amelia Botteron won first at Skyline with a time of 12:37.20.
Sophomore Kylee Fajen earned first place in javelin at Stockton to set a new school record in the event with a throw of 110'10" and then broke her own record in the Skyline meet with a throw of 110'1" for first place.
Junior Kya Schepker has been bringing home first place medals in triple jump with a first place at Butler with a jump of 33' 0.25" and she earned another first place at Skyline with 33' 3".
The boys team finished fourth place at Skyline, El Dorado and Versailles and fifth place at Butler and Stockton.
Junior Parker Love has been having much success in the 100M and 200M races and in the triple jump. He won first in the 200M at Butler and set a new school record with a time of 23.04. At the same meet, he broke another school record in the triple jump with a first-place jump of 41'11.25". He broke that record at the next meet in Versailles with a jump of 42'5.5". Love also won first in the long jump at Versailles (20'5") and at Butler (20'7.75"). Also from Versailles, he brought home first in the 100M (11.71) and first in the 200M (23.44). At Stockton, Love won first in the 100M (11.23), first in the long jump (21'5") and broke his previously-set record again in the triple jump with a first place jump of 43'3.5". In El Dorado, Love continued his first-place streak with a first in the 100M (11.28) and broke the school record for the second time in the 200M with a time of 22.36. He also won first in the triple jump (42'7.75") and first in the long jump with (21'3"). Love took first in the 200M (23.19), the triple jump (42'0") and the long jump (21'11") at Skyline. Love kept breaking his own records at Osage last week in the 100 M (10.82, second place), in the 200M (22.35, first) and in the triple jump (44'7.5", first place). He also won first at Skyline in the long jump with 22'0".
"It makes me feel satisfied because I know I've put a lot of work into it. I'm satisfied to know that I've achieved the outcome I have desired," said Love.
Senior Jake Luebbert won first in shot put at Skyline with a throw of 46'3.5". Senior Maleek Porter set a new school record in the javelin with 12'7", which earned seventh place in the event at El Dorado.
The athletes were drawn to the sport and continue to be supported by coaches who want to inspire them. Head coach Cody Morgan and assistant coach Mason Dunnaway agreed that the effort was worth it.
"I was inspired by my coaches and felt a calling to make a positive impact in the lives of teenagers," Morgan said.
"It is rewarding hard work. It is an opportunity to give back and help students the same way I was as a student," Dunnaway said.
The athletes find that they enjoy the sport, despite the effort.
"Track is very painful because you run a lot," junior Andrea Merritt said.
"I joined track because I like to run," said sophomore Gavin Roth.
"I wanted to try it in middle school and then it became something I've come to enjoy," said sophomore Haven Collins.
Leave a Comment
About the Writer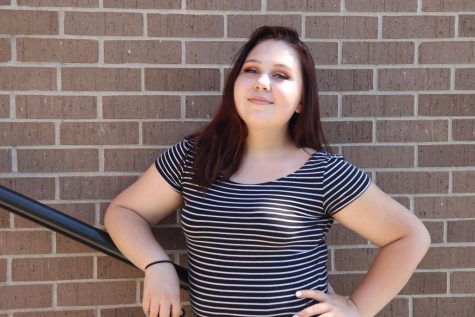 Eleanor Wassman, Staff Writer
Senior Eleanor Wassman is currently in her third year on staff. Wassman's favorite articles to cover are news stories, opinion-based pieces, and controversial...