Students get serious about hunting, volunteer for handicap hunt
If there is one thing that is noticeable about Missourians, is that almost each one takes a lot of pride in weapons and hunting skills. Hunting and fishing is clearly a popular hobby in the area and also in the student lives in Warsaw. Some high school students invest a lot of effort and time in these activities, just like they would do for school sports.
  According to Senior Dalton Nickles, who plays varsity football, fishing should be considered a sport.
  "For me, for football I just have to run, block or catch the ball. And for fishing I have to know what bait to use, know when the yanking sets the hook, so – for sure – it requires more skills. Comparing fishing and football I would say that fishing is harder, because you have to think about more things that are going on at the same time," said Nickles, who fishes really often since he was old enough to hold a fishing pole, around one or two.
  Other athletes agreed hunting and fishing requires skill developed over time and a lot of practice.
  "Hunting is harder than football, because you have to find different locations, you have to know where everything is going, what are you hunting, you have to buy everything for it and sometimes you might get hurt while nobody is around, so it is more dangerous" said Senior Zack Nelson, who also plays varsity football and baseball.
  Junior Aidan Comer, who plays varsity football and baseball agreed that it is a sport, but just to a certain extent.
  "Of course you can't just go out there, kill a monster and automatically become a professional shooter. It requires practice. You don't really have a coach, so I think is a sport but more laid back," said Comer, who has been hunting since he was four years old.
  Sophomore Kylee Fajen, a softball and basketball player, also considers hunting a sport. 
  "I think hunting could be considered a sport, honestly, because it has a lot of walking involved, there is a lot of action, but I think is based on personal opinion," Fajen said. "Just like you gotta know how to shoot a basketball or swing a bat, you have got to know how to shoot a gun and aim. Some people might need more practice than others."
  On the other hand, there are some students that don't agree with that statement. Freshman Dakota Steinhoff plays baseball and shoots trap with the FFA team.
  "Hunting for me is a lifestyle, because I shoot to eat, not to see if I can get the biggest rack like all my friends or anything like that," said Steinhoff, who claims to go hunting about every day during season. Steinhoff likes to hunt with a .30-6 pump.
  "Baseball is definitely harder, because that is something you practice for, it is not just something that you go out there for a while each year and you shoot something. It takes a lot of skills to play baseball, and you just have to be a good shot to hunt for deer," said Steinhoff.
  Junior Kiersten Grobe fishes on her free time, specially during summer. She is also on the softball team with Fajen and is preparing for track season.
  "Sports are usually competitive, and fishing is more like you doing your own thing. It feels more like a hobby." said Grobe.
  Senior Matt Luebbert hunts on most weekends during hunting season and uses a crossbow and a rifle.
  "I wouldn't consider hunting a sport. Shooting guns competitively is a different thing, I would say that is a sport, but not hunting,"  said Luebbert.
  Stan Adler, the Agriculture teacher, FFA advisor, and hunter educator thinks that hunting can be referred to as either a sport, a cultural custom or another way to put food on the table.
  "It can be considered a sport. To be good at it, you really need to study the habits and patterns of the animals you pursue. I would say that dove hunting, duck hunting, and quail hunting are more sport hunting than deer, but they all require a certain degree of skill and physical ability. For a lot of  people, it is more than a sport. For some, it is tradition and an opportunity for time with family and friends, for some, it is a form of stress relief, for others, it is a way to cheaply put meat on the table, and for others, it becomes an obsession," said Adler.
  According to Adler, diverse factors made this season a productive one.
  "It was a good season.  The rut (mating season for deer) hit its peak on opening weekend, and we had  cold weather, which gets the deer to move more. It was a perfect combination of factors for deer season. This year's opening weekend harvest was actually a record. Benton County came in third on the list for opening weekend deer harvested," said Adler.
  Luebbert was responsible for gathering volunteers for the Handicap Hunt that happened on Nov. 3 and 4.  
 "To organize it I had to make sure everyone knew what time to get there and I had to give Dick Lewis a list of all the people from the high school that were participating," said Luebbert.
   The student volunteers helped elderly, disabled and injured people hunt, since, because of those conditions, they can't do every part of it by themselves.
  "They go out with the guide who helps them, they shoot a deer and the trackers – which was my job – would go out there and find it for them and show them what they got. They would be super happy because they don't get that opportunity very much so when they get it they don't take it for granted,'' said Fajen.
  "I was cleaning and tracking deer. I worked a lot of hours Saturday and Sunday. We started at 5 am and we weren't done until 6 or 6:30pm. The meat goes to their family," said Nickles, who worked both days on the Handicap Hunt.
  "I think the Handicap Hunt went pretty fantastic, I liked it. It is awesome to see those people get the opportunity of getting deer too," said Nelson.
Leave a Comment
About the Contributor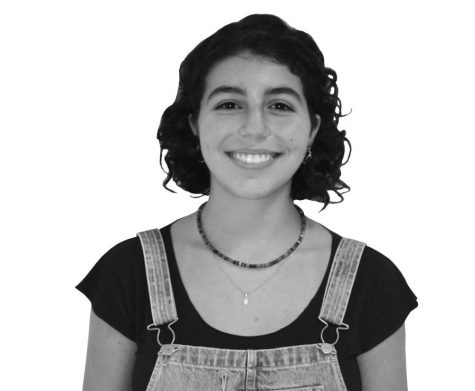 Lica Rosa, Staff Writer
Junior Lica Rosa is interested in the journalism class because she enjoys descriptive writing and displaying the emotions of people through the art of...