New faculty takes on a new year at Warsaw High
Nine new high school staff members have started their Wildcat experience. Cody Wright, Bobbi Swisher, Whitney Hamilton and Kristin Rode have chosen Warsaw out of all the other schools because they felt like it was the place for them. Check out the next issue of The Wildcat to read about more new teachers.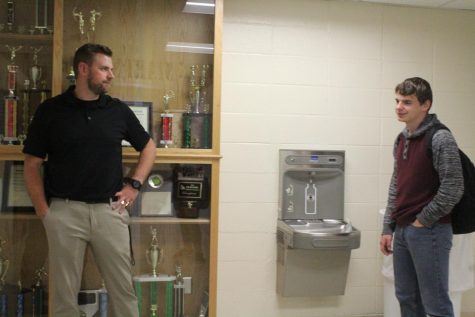 Assistant Principal Cody Wright
  Cody Wright is the new Assistant Principal. Wright grew up in Warsaw and went to school all the way from Kindergarten to his graduating year in 2009. He came back to Warsaw from Walnut Grove primarily for his family, friends, and the fact that he grew here.
  "Warsaw was a unique place and there's nowhere in Missouri quite like it," he said.
  While in Walnut Grove, Wright taught Social Studies and coached. At Walnut Grove, Wright also experienced a four-day week so he has had some experience with the new change.
  Wright's biggest struggle is learning all the names of the students because he doesn't have them is class every day, so it's not the same connection. Wright says all the students he's met so far have been well behaved for the most part, and very welcoming.
  In his free time loves to hunt, and fish but mainly hunting. He prefers bow hunting and duck hunting and is looking forward to the upcoming hunting season. If Cody could rename any color he says he would rename the color green to Wildcat. Talk about school spirit, and he only started this year.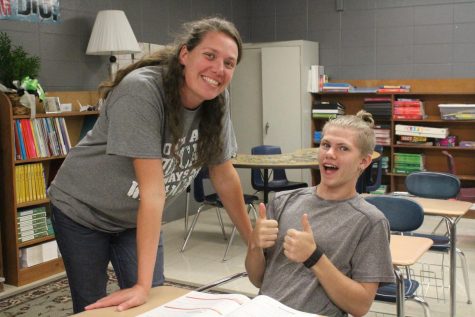 Math Teacher Bobbi Swisher
  Bobbi Swisher, a new math teacher in the special education department, said staff and students at WHS have been very welcoming.
 Swisher chose Warsaw because she said she heard about the great things going on here, and she lives in Warsaw. She says that so far she loves Warsaw High so far and it was the change she needed.
  Swisher taught in Lincoln for six years.
  She said she absolutely loves the four-day weeks because she gets more time with her family and more time to devote to both school and personal tasks.
  Swisher is married with two children, a 13-year-old student at John Boise Middle school and a four-year-old at Warsaw preschool. Her husband is a 1997 graduate of Warsaw High, Willie Salley.  He works for Harry S. Truman Dam and State Park.
  Swisher said her children are her biggest achievement.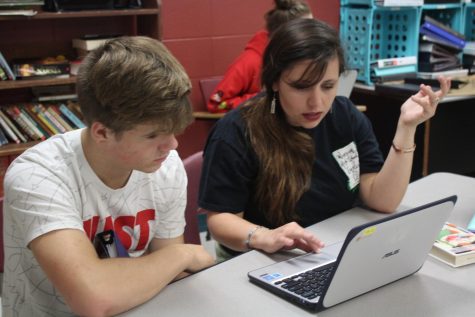 English teacher Whitney Hamilton
   Whitney Hamilton, teaches English I and English II. Hamilton is originally from Arkansas and moved to Missouri to be closer to her husband's family.
  Her teaching experience began in Vilonia, Arkansas for three and a half years, then she taught at Applewood Christian School for two years in Sedalia.
  She said Warsaw has been really welcoming and she's really enjoying the four day weeks.
 "It makes the week feel more manageable, it feels faster. I feel like im not counting down the days as much," she said.
  Hamilton also goes to graduate school and she said her biggest accomplishment is juggling her teaching with being a student herself.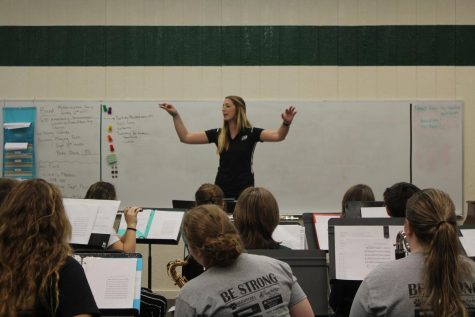 Band director Kristin Rode
  New band director Kristin Rode, graduated from the University of Central Missouri and is originally from Warrensburg.
  This is her second year teaching and only her first year teaching band. Previously, she taught elementary music at Jarrell Elementary.
  Warsaw has been a big change, but she really has liked the four-day week, the students, and staff.
  She said the four-day week has been a good thing for her because it extends the "weekend" and gives her and the band kids an extra day to rest from Friday night football games and competitions.
Rode has recognized that the band is really creating a good reputation for themselves and getting their name out there in a good way and gaining the recognition it deserves. She said her musicians are working super hard, and she is proud of that.
 Read about Holly Howerton, Johnny Eierman, Justin Thomas, Daniel Waller and Emily Banfield in the next issue of The Wildcat.
Leave a Comment
About the Contributor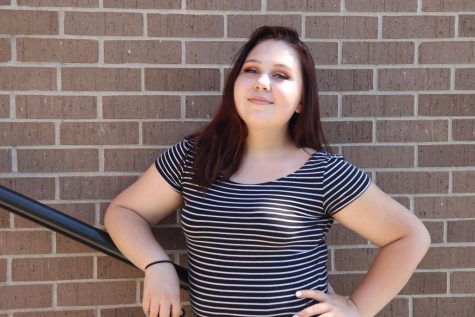 Eleanor Wassman, Staff Writer
Senior Eleanor Wassman is currently in her third year on staff. Wassman's favorite articles to cover are news stories, opinion-based pieces, and controversial...