Softball team's bond grows as wins keep coming
With only a couple home games left, the dedicated softball girls of Warsaw are back onto the field with determination leading the way. Practice for the team started Aug. 6, with early morning and late night practices keeping the team on their toes and motivated for anything the season throws at them.
  The team is built up of a well-rounded group of players, joining the team this year are nine up and coming freshmen, with senior Kinsten Cunningham leading the girls into a winning season.
  "Being the only senior this year is crazy, you have to constantly be a leader and be there for all of the girls on the team. I think I was super lucky to be the senior of the team that I got. Even if we are losing and no one is positive sometimes, they just need a pat on the back and telling them that, although we are behind, we need to stay up, cheer for the team and keep being the team I know we can be," Cunningham said.
  However, losing is not something the team is used to doing. The team has won 16 of their 17 games this season, losing to Pilot Grove, 1-9, early in the season. Many of their wins have ended in a run rule, where the game is called after the first 3 innings when Warsaw was 15 ahead or the first 5 innings with a 10 run lead. Other close games have been against Sherwood on Sept. 11 (7-6) in 12 innings and Eugene on Sept. 17 (8-7).
  Returning to the field are juniors Kya Schepker, Reagen Shelby, Keirsten Grobe, Rayni Simons, Payge Adair, Aubri McRoberts, and Aubri Umlauf.
  Adair has been playing softball for seven years, and currently holds down the mound as pitcher, along with playing first and second baseman. Adair, along with the other girls, is hoping for the best outcome this season.
  "I think that wanting to make it to state makes us want to try our best. We all want to go to state and we want the experience. I am very passionate about softball, I try my hardest when ever i'm on the field," said Adair.
  With a hand full of kids who have been playing traveling ball through the off season, the team is easily getting back into the swing of things.
  New assistant coach Kelli Eierman has worked with the girls before and knows the girls are down for anything.
  "We are very fortunate to have a group of girls who are already very knowledgeable about softball. Our practices always run very smoothly, but I feel there is always room for improvement and growth," said Eierman.
  Off and on the field, the girls are known to have an unbreakable bond.
  Freshman and first baseman Karlie Jones has been playing softball for five years.
  "When you have a team that cares about each other, it makes you want to work even harder to make your teammates happy. We all love to work hard and if we have a bad day, we pick each other up and help find a way to fix what needs to be fixed," said Jones.
  Even with their strong friendship, the team is always focused on the next win and the there next big play. All of the girls bring their own personal strength, and contribute to a well-rounded team.
  Head coach Steve Larson has been coaching the team for 14 years.
  "I have 12 players who have played travel ball and 11 that currently play. They put in the hard work all year round and that's what makes you a well rounded player. Many of them participate in multiple sports, that also makes you a more rounded player," said Larson.
  As the girls get ready for upcoming districts, they are looking to win big at every game. With their passion for the sport, and coaches to lead the team, the girls are having an amazing season.
  The girls recently came out on top at the annual Warsaw softball tournament, with an overall record of 16-1 so far this season. The girls recently beat Clinton on Sept. 18 with a score of 15-0.
  "I think that we have a ton of girls who just strive to win, that helps with the momentum and personality of the team, that helps 100 percent. A good attitude and always acting like you're five points behind just to help you drive to keep going," said Cunningham.
Leave a Comment
About the Contributor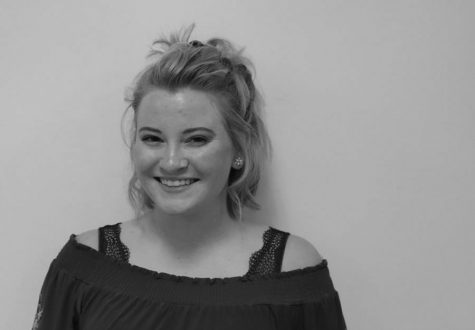 Brenna Smith, Photography Editor
Senior Brenna Smith, a lifelong Wildcat, has come back to the journalism department for her fourth and last year. This is her second year as the photo-editor...