Small golf team begins season with new coach
Despite a small team of eight players, Wildcat golfers are hitting the course to see improvements this season.
  Junior Ethan Schomburg has been playing golf for two years, and fills one of the varsity spots this season. As a junior, Schomburg has high goals this year, hoping to go far and prepare for his final year to come.
 "My goal for the season is to get my scores down far enough to where I can make sectionals and maybe even state," Schomburg said.
  Schomburg is not the only player who is hoping to go far this year. Senior Rayne Faulconer will be playing golf for his third year. Faulconer will also fills a spot on varsity, hoping to play his best season yet.
  "Well, I hope it ends well. My game has improved a lot from last year and I hope to make it to sectionals," Faulconer said.
  With few players, the golf team is working hard during practices to make sure that everyone benefits the team during matches.
  "We hit at the driving range for about an hour and then we go chip and putt at the putting green to practice and get our putting down," Schomburg said.
  New head coach Kyle Stoecklein is filling the position of golf coach this season.
  "I have played golf my whole life; my family likes to go and play together throughout the summer.  It is just one of the things we all enjoy doing together. Unfortunately, I never played in high school.  I liked to just focus on getting ready for football in the spring and I liked to just play for fun rather than playing to compete," Stoecklein said.
  As a new coach, his goal for the season is to help the new members grow as players.
  "We have focused on learning the rules and the mechanics of the game.  We have a lot of new members and this is their first year playing, so we have spent a lot of time at the range just practicing making contact," Stoecklein said.
  With golf being a quiet sport, players focus on the positive aspect of game.
  "Golf is there for me to be able to get my mind off the world and just go out and relax. It isn't a physically taxing sport and I enjoy the fact that it can get my mind off of the things stressing me in life and just go out and play. That is why golf is so enjoyable and I continue to play," Schomburg said.
  Everyone is looking forward to the upcoming season, with plenty of competition ahead.
  "I am excited to learn about how the game is played at the high school level.  I am ready for the competitions and seeing how our team stands up against everyone else," Stoecklein said.
Leave a Comment
About the Writer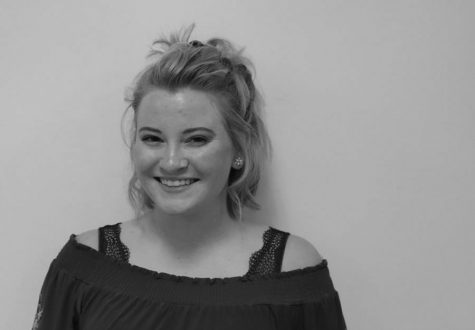 Brenna Smith, Photography Editor
Senior Brenna Smith, a lifelong Wildcat, has come back to the journalism department for her fourth and last year. This is her second year as the photo-editor...