Senior artist uses creative mind to inspire others
Art is more than a hobby for senior Madi Rozzel, it is her form of therapy.
  "To people, it's just paint or pencil. To me, it's an escape. I struggled with depression for a long time. It was the thing that pulled me off the edge. It was the thing that gave me a voice. It made me feel something again," senior Madi Rozzel said.
  Madi Rozzel has been taking art classes since the sixth grade and even before then, she has always been deeply involved in art. Whether it was coloring in a coloring book or creating some form of art for a family member, Madi Rozzel has always had a creative side.
  According to junior Ren Rozzel, her sister has the eye for creativity.
  "She is an incredibly creative person, she sees things differently than some do. Clothes I would throw away become textiles and materials in her hands to create new things. They aren't always beautiful, but definitely a creation," Ren Rozzel said. "She understands art and emotion in a way people like me don't. She sees the world in colors of paint, lines and sketches."
  Madi Rozzel has had a hand for the arts since she was little and is often inspired by those around her for ideas.
  "I have always been deeply involved in art. When I was young my step-father was a tattoo artist and I looked up to him. When I was four, I drew a bird and cut it out for my mom. It had a bobble head and a bow in its hair," Madi Rozzel said.
  Her talent has now lead to inspiring others; her sister is one of the many people to be in awe of her work.
  "My first memories of my sister are of her coloring in coloring books and painting at my grandmother's. She has been an artist since she could use her hands," Ren Rozel said. "Madi inspires me often and often makes me envious of her talent. She is the reason why I have even tried art and I have found a few passions and talents in the field due to her being an example."
  Friends and teachers have also seen the creativity in Madi Rozzel.
  Senior Kylee Creach, a close friend, agrees that Rozzel's perspective is often different from others.
 "She has a unique way of putting things in her own perspective. The way she sees things is usually pretty different from everyone else," Creach said. "She is very talented and is able to see something from many points of view and finds a way to make it her own."
  Art teacher Jennifer Greene also sees the same potential in Madi Rozzel that fellow students see.
  "Madi can really put a lot of detail into her work that most art students have trouble seeing. She pushes herself to achieve all she can in one piece of artwork at a time,"Greene said.
  As Rozzel prepares to graduate, she looks towards the future and hopes to keep her artwork close to her and to keep doing what makes her happy.
   "I want to become an artist. I want to sell art and create beautiful things that make people feel something," Rozzel said
  Rozzel said her dream would be to open up a studio eventually.
  "After high school, I hope she accomplishes everything she wishes to. I'm hoping she'll take up a career in music or art of some sort, she seems to really love what she does," Creach said.
  For those few who are not artists or don't fully understand the concept, Rozzel hopes that her work will inspire others.
  "Don't underestimate the power of paint. Remember, a picture speaks so much louder than words," Rozzel said.
Leave a Comment
About the Writer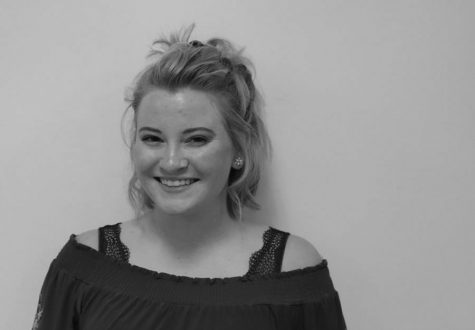 Brenna Smith, Photography Editor
Senior Brenna Smith, a lifelong Wildcat, has come back to the journalism department for her fourth and last year. This is her second year as the photo-editor...