Artist corner: Colter Hetherington
Senior artist gives credit to art teacher for his success
 Senior Colter Hetherington is a well known artist throughout the student body. He has produced many detailed pieces. One specifically was "Under the Sea", which was recognized by art teacher Jennifer Greene to be one of her favorite artworks by him. This was a colored pencil piece of a turtle swimming through the reef.
  "Colter is a very good artist. He is very creative and doesn't turn down an idea I may give him. Nothing is too difficult for him. He will do his best on every idea," STCO adviser Jennifer Greene said.
  Hetherington puts everything he is into his work. He puts extra work outside of school in all of his pieces.
  "I'm my own person and every piece I do has my own twist," Hetherington said. "I do not really plan on selling my art but I have been offered money for pieces."
  Hetherington continues to create multiple pieces throughout his high school career. "Under the Sea", a watercolor barn, a watercolor heart, a tattoo design in ink, a rendition painting of a Georgia O'Keefe piece, a graphite drawing of an indian, and many more are just a few examples of artworks that show off his creative abilities. He has even sold a couple of his pieces. The graphite drawing of an indian was sold for $50 while a copy of "Under the Sea" sold for $150 . Despite his success in this extracurricular, he never plans to sell his art.
  "I feel that I represent art in my own way, because everyone has their own opinion," Hetherington said.
  Hetherington is not the only one who believes individuality plays an important part in art.
  "Colter always makes sure he has his own touch to his work. He always pushes his artwork to the limits," Greene said.
  Students agree his "Under The Sea"  is an amazing piece.
  "I like his turtle and barn. They had a good amount of detail, but wasn't overwhelming. They were balanced,"senior Molly Baumhoff said.
  Hetherington has a reputation of being a bit of a procrastinator around the school.
  "When he actually does his work, he becomes focused and it then takes a lot to distract him from his work," Baumhoff said.
  Hetherington has been in art all four years of high school and has taken every art class. Hetherington says Greene is the reason he is the way he is.
  "Mrs. Greene is the reason you are getting to do this article for me. She has beveled in me since I walked into that art room my freshman year," Hetherington said. "Over the last four years she has pushed, yelled, and encouraged me to do everything I do now. Little does she know she is the reason I am going to school to be an artist."
Leave a Comment
About the Writer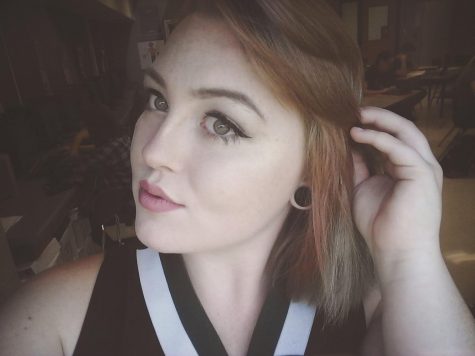 Madi Rozzel, Staff Writer
Madi P. Rozzel enjoys singing, painting, writing poetry and stories, sketching, spending time with friends, and training her puppy SugarBear. She enjoys...