Softball team wins district, plays hard at sectionals
The softball team just recently wrapped up their season with a strong ending, and some confidence to go into the off season. Winning the district championship on Oct. 7th against Pleasant Hope 12-10, and Lamar 13-3, had an impact on the girls and their mindset going into sectionals.
  "My mindset was focused, we had to get things done, and take names. I just wanted to go and do the best that I could, make my coach proud, and show the community that Warsaw softball is back," said sophomore Kya Schepker.
  Schepker pitches and covers second base on varsity, and also received Second-Team all Region.  
  Head coach, Steve Larson, was pleased with the team and how they performed this year, and making it far into postseason.
  "I thought the season went very well. The girls were successful and learned a little bit more about post season softball," said Larson.
  The team fought hard in sectionals against Dixon, but came up short 5-1.
  This years team's final record was 18-7.  
  "Winning Districts was an amazing feeling, one that brought our team even closer as a family. A feeling we've never got to experience before, one that will stay with us forever," sophomore shortstop Aubrie McRoberts said.
  "Winning never gets old; 2017 was my fifth district title and was as emotional as the first. It's great to see the team succeed. Sectionals didn't turn out the way I'd hoped, but it's a stepping stone in the right direction," said Larson.
  The majority of the team is very young. With only two seniors to lead them, the underclassmen had to step up to the plate to pull out a winning season.
  Sophomore Kiersten Grobe covers right field on varsity and felt the need to show the community how strong the team is, even with a young team.
  "I want to keep on going and work hard to accomplish things that Warsaw hasn't accomplished in a while, and to show what we can do since the majority of us are young," said Grobe.
  As the wins kept coming this season the community rallied behind the girls.
   "The team got support from the community as well as from their classmates, the student body and the administration. Softball has been a pretty consistent program for the last 10 plus years and we intend to keep that going," said Larson.   
  Senior Gabby Flores held down third base this year on varsity.
  As a senior Flores was excited to go to Sectionals during her last year as a Ladycat softball player
  "It was definitely exciting," said Flores. "I'll miss my teammates and the joy of the game, but I've made some great memories to take with me."  
  McRoberts will definitely miss the leaving seniors.
  "Ending the season, I will definitely miss playing with my sister, Gabby Flores, the most and getting the opportunity to hold down left side with her," said McRoberts.
  McRoberts earned first team All-Regional.
  As the girls get ready to head into winter sports they look forward to next season and are prepared to work for it next year, even on the off season.
   "Most of us are all playing traveling ball in the off season so we just are going to work on improving and fixing little mistakes," said Grobe.
  The coaches are hoping to see the girls working hard over the summer to go further than this year.
  "Many of the girls will put a lot of work in this summer and get some valuable softball experience with their travel teams. Obviously, we need to learn to adjust to the rise ball and be able to hit pitchers like the girl from Blair Oaks," said Larson.
  Already the girls are ready to go for another round of softball.
  "I can't wait to get back on the field with my favorite girls and make more memories," said Schepker.
Leave a Comment
About the Contributor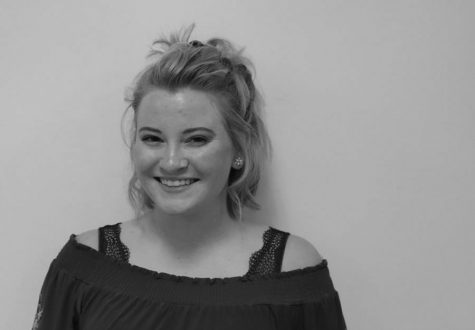 Brenna Smith, Photography Editor
Senior Brenna Smith, a lifelong Wildcat, has come back to the journalism department for her fourth and last year. This is her second year as the photo-editor...