Addition of officer on campus intended to keep students safe
Students and faculty welcomed city police officer David Fajen as new Student Resource Officer. This is something new to the Warsaw School District. Fajen is here to watch over students, protect and make sure they are doing as they should be.
  Superintendent Dr. Shawn Poyser said he felt after his first year that having a student resource officer was a priority.
  Principal Randy Luebbert said security must be a top priority, especially since school shootings seem to be more common. He mentioned that there was a school shooting already this school year in Washington.
  "In today's day and age – with security being such a big issue with schools – it's just unfortunate the current reality is you need law enforcement on your campus," Luebbert said.
  Fajen has a few main duties that he goes through on a daily basis. He works with administrators and keeps track of the activity that occurs in the halls before classes. He keeps an eye out for reckless driving in the parking lot, making sure people who park on school property have a parking pass, and keeps an eye on the buses at the beginning and end of the day.  If there are any discipline problems or issues with attendance, he is there to help write reports.    
  According to Luebbert, Fajen's past law enforcement training and current work as an officer, makes him a very valuable resource for school safety.
  "It's nice to have a police authority present; I feel Mr. Fajen is a great addition to our faculty," said art teacher Jennifer Greene.
  Being another set of eyes to protect students and dealing with illegal activities are only some of the things an SRO does for the district. Fajen is able to visit all the different buildings within the district when it's needed. Elementary schools have problems with custody battles over children and Fajen is able to help with issues like that.
  Some high school students didn't see the need for the presence of an officer on campus at all times.
   "I honestly feel like he really doesn't make a difference being here and it's just a waste of money to pay for him to be here. All he really does is be another pair of eyes," senior Nathaniel Fauquier said.
  Others have a different point of view, saying the police presence keeps bad stuff off campus.
  "People don't want to be caught so they don't do bad stuff anymore," senior Kylee Myers said.     
  Students feel like the biggest issue within the school is chewing tobacco, smoking marijuana, drinking alcohol, bullying and disrespect towards teachers.
  "I feel like I'm more of a deterrent," Fajen said.
  Some students don't feel like the presence of an officer on campus will necessarily change behavior of students beyond the walls of the school.
  "I don't feel more safe because everyone's just trying to be on their best behavior at school since he's on campus during school hours," said Myers.
Leave a Comment
About the Writer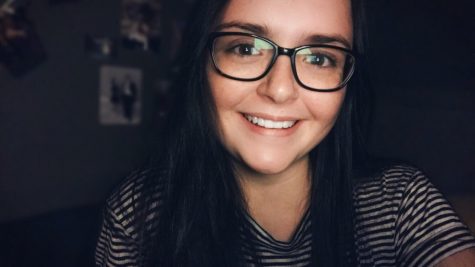 Drew Dawson, Web & Social Media Editor
Drew Dawson is a senior, this is her second year being a part of the journalism team and her first year serving as Web and Social Media Editor.  Dawson...