To those who serve
Veteran's Day assembly honors veterans, inspires students
The gymnasium was once again filled with patriotic colors, music and faces of the old and young on Veteran's Day, Nov. 11, as the school honored veterans from each branch of military service and welcomed back esteemed alumni and guest speaker Air Force Chief Master Sergeant Nathan Parks.
  Students from student council, NHS, and Future Career and Community Leaders of America welcomed and served veterans breakfast before the assembly that included elementary, middle school and high school guests and high school band and choir entertainment.
   Featured speakers included Superintendent Dr. Shawn Poyser and 1996 graduate Nathan Parks. Parks inspired and challenged students and veterans to continue to choose their mission in life and to "finish strong," no matter the age.
  "I am counting on you to take the torch from me," Parks told students.
  Parks told about a soldier wounded in battle with a sucking chest wound who had three minutes to live. He told about how this soldier, despite his injuries, did his duty to save the other soldiers and challenged students and veterans to be like that soldier, to head toward their goals, make an impact and influence others.
  "Your three minutes has started," he told the audience. "You are on the clock."
    Several students plan on taking that torch and have made plans to join the military after they graduate high school.
 Students entering the military feel that the military is important because of the ability to defend the country.
 "The defense of our country is why the military is important to me" said junior Lee Newell. He plans to go into the Air Force.
 "I've always wanted to fly the planes and serve our nation," Newell said.
  Lee was inspired at the assembly by the speech from Parks.
  "His story about saving people made me want to join so I could save people, which is what the military is about," Lee said.
  Senior Chris England plans to go into the Army after graduation because it "best for educational purposes."
  "I want to do what is right and help defend our country, that is why I find it so important to join the military," England said.
  There are educational benefits to joining the military as well.
  "I'm going into the Army because the military will help me pay for my tuition and can help me get the job I'm going for," senior Hunter Green said.
   They also have basic life benefits as well.
  "The Army allows you to have tax-free housing cash bonuses, and health care for you and your family," England said.
  "I'm choosing the Army because there promotions are faster and they have medical fields which is what I'm interested in doing," Green said.
  Veteran and WHS government teacher Jared Steenburgen served as a Marine for five years and also served for the Army and National Guard.
  "The military gave me a sense of direction on where to go" Steenburgen said.
  Steenburgen used military benefits to help pay for college and is proud of his service. He was also proud of his school for honoring veterans on Nov. 11.
  "I thought that the assembly was really good and Parks was head and shoulders above any speaker I have ever heard," Steenburgen said.  
Leave a Comment
About the Contributor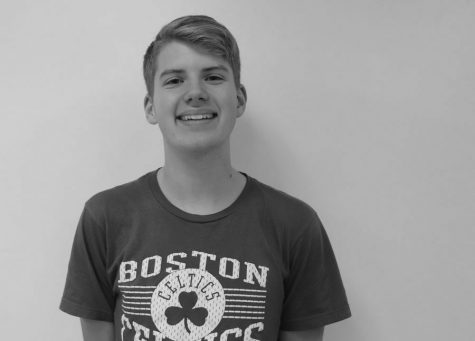 Ethan Schomburg, Web/Social Media Editor
Ethan Schomburg is a senior this year. This is his third year as part of the Warsaw journalism department. He is in math club, speech team, and plays golf...