Future medical professional has success at CTC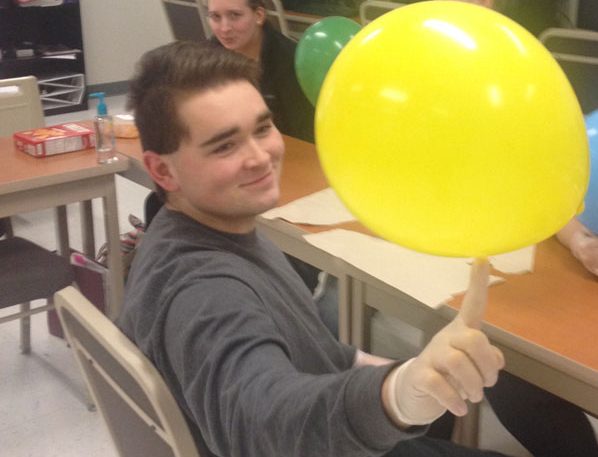 Dedication to his career goals through the CTC Health Occupations programs has earned senior Andrew Savage recognition. In addition to becoming a CNA (Certified Nurses Assistant), Savage also earned a regional award.
 Savage was the Health Occupations CTC Program Regional Award Winner of the Braking Traditions non-traditional career from Missouri STEM Foundation.  He was nominated by Stacie Wild SFCTC counselor and was awarded on April 6 at CTC. Savage received a $100 scholarship for this award.
   Savage is the top CTC senior. Counselor Laura Cooke said that Savage is well deserving of the honor of being the top CTC senior. Savage was chosen from eight different programs with a total of about 130 students as the top CTC student.
  "In order to be accepted into State Fair's nursing program you have to be one of the best," Cooke said. "Andrew is lining himself up to be there."
  Savage will attend State Fair on a full ride scholarship to become a registered nurse.
  "I care very deeply about what I do," Savage said. "I have the power to change people's lives and I take that very seriously," he said.
  Junior Corey Nahrstedt looks up to Savage because of his passion, inspiration, and hard work. Nahrstedt sees Savages passion for becoming an RN (registered nurse) to be inspirational.
  "He works hard and studies hard just to reach his goals," junior Corey Nahrstedt said.
  Savage's favorite thing about Health Occupations is having a mentor that truly cares for her students. Mentor and Health Occupations instructor Lisa Montgomery has had a big impact on his life.
  For anyone starting the CNA course at State Fair, Savage advises that they work on being able to put their differences and personal problems away.
  "When you directly affect someone's quality of life, you can't treat them bad because of some school drama that doesn't matter," Savage said.
 Savage also advises that those who are going to take the CNA course to be prepared for anything, but to also know that they have a team of people just like them and a mentor to help them get through the challenges.