Multi-talented musician to pursue music-related career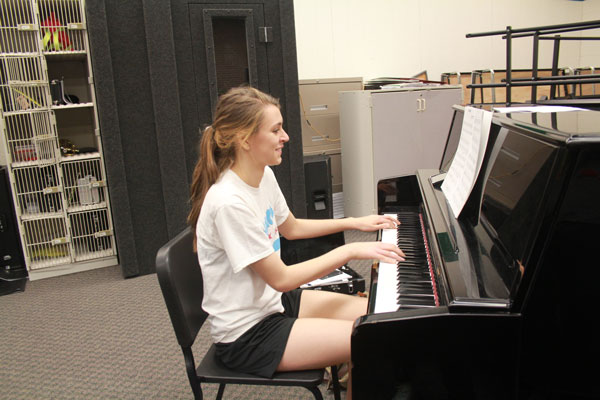 Hours of practice have proven to pay off as senior Claudia Schmitz finishes of her last year of high school with making 1s on her piano solo and flute solo at state and making All-State Band.
  Schmitz has been in band at Warsaw High ever since her eighth grade year after being home schooled since sixth grade.
  "I have grown as a musician throughout high school by increasing my practice hours, beginning to take flute lessons my sophomore year, and participating in as many extra band events as possible," Schmitz said.
  Having worked with multiple flute and piano instructors across the country, Schmitz demonstrated to other band members the hard work it takes to be successful.
"She makes band students want to get better and try to be as good as her with music," senior and fellow band member Kylie McRoberts said.
  "She is a role model because she shows others the practice and work ethic it takes to be a good musician," Band Director Ben Johnson said.
  Schmitz was accepted into five different music universities across the nation, and is planning to attend Temple University in Pennsylvania as a music therapy major.
  "I am happy to have had Claudia in the band program the past five years. She will be greatly missed but I have no doubt she will continue to be highly successful!," Johnson said.
 "It has been an incredible experience, and it feels good that my hard work has paid off," Schmitz said.