Science club students struggle to stay upright on overnight float trip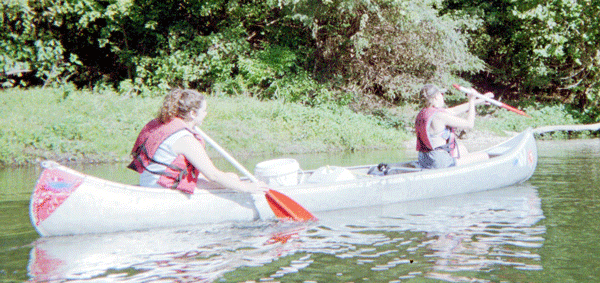 A normal tradition for Warsaw High Science Club occurs again as the months become warmer. On April 9, the Science Club went on their annual overnight float trip. The Science Club group left at 7:00am and got back Sunday at 2:30pm. There were 24 people who went on the trip, this included students, teachers and science teacher David See's grandson Apollo. "Warsaw Science Club has gone on these float trips ever since I started working here which was 33 years ago," See said.
  "There were like 5 canoes that tipped and 3 within the first 5 minutes of the trip," Senior Kaitlyn Laue said. The group floated down the river until they found a flat spot to stop and camp. Once they reached their campground for the night, the groups were able to set up their tents and then just relax and have a good time.
They had a campfire, ate hot dogs and had s'mores. Some even went swimming, one of these people included sophomore King Archer.
  "The upperclassmen had their own campfire and us two sophomores had our own," Archer said. Archer had a terrifying moment in the middle of the night when he woke up and saw a few upperclassmen looking over him. "I heard a noise so I opened my eyes and they were all just staring at me," Archer said.
As Sunday morning rolled around the campers had a biscuits and gravy, packed up their gear and headed out. They arrived back at the school, late afternoon.
  Seniors take away their best moments from the Science Club float trip, which was a fun filled weekend for everyone.
  "I got to spend time with my friends, Kylie and I didn't tip even after paddling the wrong way," Laue said.