High School Hero: Alexis Smith
Junior comes out of her shell to emerge as a leader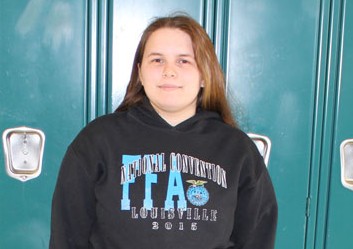 Junior Alexis Smith may not be the most outspoken student at WHS, but her dedication to her activities, her lead-by-example attitude and her commitment to improvement is admirable to teachers and students.
  "She is a great example for other students to follow," agriculture teacher Stan Adler said.
  "I think I was chosen as the high school hero because I am hard working and I help people. I am proud to be chosen as the high school hero because I never really thought I would be chosen and I am really surprised," Smith said
  Smith is involved in many activities and clubs in and out of school. Her activities include 4-H, FFA, band, math club, journalism and NHS. Smith stays involved and keeps good grades.   
   "In order to keep involved I have to keep my grades up," Smith said. "Plus, it feels really good to have good grades."
  FFA is one of Smith's school activities. Smith is the chapter reporter.
   "Being the Chapter Reporter I write articles for the Benton County newspaper and I take pictures and put them in a scrapbook," Smith said.
  The FFA scrapbook won third place this year at the area LDE contest.
   FFA is important to Smith because it has helped her get up and speak in front of a crowd and, as an officer, she has to do that.
  "If you would have seen me freshman year compared to now, I would have been like a mouse," Smith said. Smith pushes herself to get over her shyness because she must to be a good interviewer and talk to many people to get the job as an officer.
   "Alexis is very respectful and gets her work done on time," Adler said.
  Smith may be a hero to some students and teachers, but she has a hero of her own.          
  "My hero would have to be Mr. Adler because he has helped me get over my nerves to speak in front of a crowd," Smith said.
 Every day, teachers and students alike observe her good qualities.
   "Her strongest quality is either her dedication or her personality because I can't pick just one," Adler said.
  "She's nice to everybody and almost always has a smile on her face," freshman Allison Thomas said.
  After high school, Smith plans to attend State Fair Community College to get her general education classes for literature to be a creative writer. After she attends State Fair, she plans to transfer to a four-year college to continue her education.